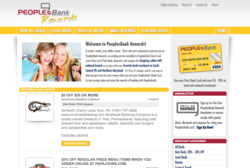 "Stage of Life's loyalty platform works for us on several levels" --Nathan Eifert, VP of Marketing for PeoplesBank
York, PA (PRWEB) January 30, 2013
Stage of Life LLC, a loyalty marketing agency, announces the launch of its B2B Coupon API platform, My Life Rewards®. The API platform is fueled by the Stage of Life® Merchant Network - a database of coupons and offers organized by merchant category, e.g. small business, shoes, travel, apparel, etc. as well as life stage, e.g. students, families, wedding, homeowners, grandparents, Baby Boomers, etc.
"The combination of segmenting our Coupon API by both merchant category and life stage creates a powerful opportunity for affinity organizations to provide meaningful and relevant rewards to their clients or members for life's important moments," said Eric Thiegs, CEO of Stage of Life LLC.
Other aspects of the Stage of Life Coupon API include the ability to...
--Incorporate local coupon offers if the client has customers clustered in a specific geographic region - including fully customized coupon artwork tailored to the client program.
--Add dynamic database fields so the client can create exclusive sorting options to deliver coupons and brands most relevant to its unique audience in its loyalty program.
The Stage of Life Coupon API also gives participating reward and loyalty program clients flexibility in how to use the coupon content to reward their members, customers or employees, i.e. either as a stand alone member benefit program or as an enhancement to an existing loyalty or rewards program.
PeoplesBank, A Codorus Valley Company - a financial institution located in South Central Pennsylvania - was the first client to utilize the Stage of Life Coupon API for its loyalty program, PeoplesBank Rewards.
"Stage of Life's loyalty platform works for us on several levels," said Nathan Eifert, VP of Marketing for PeoplesBank, "but our favorite aspect of the program is the flexibility for us to pull in and feature our own local merchant coupons."
Together, Stage of Life and PeoplesBank built a network of merchants for PeoplesBank Rewards that focused on helpful "everyday spend" categories such as grocery stores, farmer's markets, restaurants, dry cleaners, and other local and national merchants that feed through the Stage of Life Coupon API. The bank's loyalty program website and concept was named a "Best of the Web" awards finalist in the "finance" category by the Central Penn Business Journal, and the program will welcome its 100th local merchant to the coupon program this year.
"When you have thousands of your debit cardholders visiting the rewards website, printing coupons, opening the reward emails, and actively participating in the program by saving money at both local and national merchants in our retail footprint, we knew we had a loyalty program that worked!" said Eifert.
# # #
About: Stage of Life LLC is a loyalty marketing agency formed in 2009 that specializes in building or consulting on member benefit solutions, merchant funded rewards, and loyalty programs, especially for affinity organizations with members in particular stages of life. Its core services include a Coupon API that can be used to create or enhance a discount program, employee perk program, or loyalty program. Stage of Life LLC and its various merchant coupon or reward partnerships have touched over 65 million US consumers.
Contact: Stage of Life LLC
Eric Thiegs
President & CEO
contact(at)stageoflife(dot)com
717.244.0006
stageoflife.com/corporate
About: Codorus Valley Bancorp, Inc. (Codorus Valley) incorporated in 1986, is a one-bank holding company headquartered in York, Pennsylvania that provides a full range of financial services through its subsidiary, PeoplesBank, A Codorus Valley Company (PeoplesBank). PeoplesBank, with origins dating back to 1864, is focused on acquiring and nurturing financial relationships with small and mid-sized businesses. It also provides personal banking, mortgage banking, wealth management and real estate services. PeoplesBank is the largest full service community bank headquartered and managed in York County. It currently operates 18 financial centers throughout York
County, Pennsylvania and northern Maryland.
Contact: PeoplesBank
Nathan Eifert
Marketing
rewards(at)peoplesbanknet(dot)com
717-846-1970
peoplesbanknet.com