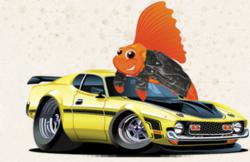 Don't get sucked in by offers and specials, or those cash back incentives when you can't afford to be putting anything on your card.
(PRWEB) February 05, 2013
RoadFish.com men's lifestyle and finance magazine today issued their observations regarding the recent Business Insider article which revealed the different credit scores that credit lenders use to judge borrowers, and what consumers can do to better their odds of coming up on top. RoadFish.com shared their view on the credit lenders' methords, and offered mind-frames and techniques to consumers who don't want to get played by credit lenders.
Mandi Woodruff of Business Insider reported in a recent article that she had paid off a credit card in the fall of 2012, and hadn't run it since then. She received an incredible mail offer after her period of inactivity with a 5% cash back incentive on all travel-related purchases made before March 30th. In her article, Woodruff explains how it was not coincidental timing, but actually the careful and strategic doing of the credit lenders that landed such a hot deal in her lap. Woodruff consults with Adrian Nazari, CEO of CreditSesame.com, and reveals how credit lenders operate in terms of ranking, rating and judging consumers and how they use the data they gather to their advantage.
The Business Insider article reports that the five ways credit lenders judge borrowers are based on a behavior score, a collection score, a revenue score, a bankruptcy score, and an attrition score.
RoadFish.com was not shocked to learn about such credit lender behavior. RoadFish.com's Senior staff writer is quoted as saying, "I remember surfing the web and being shocked to see certain ads and banners start appearing that were advertising exactly what I was searching for. Even if I wasn't searching for anything in particular, I was seeing commercials and ads for items and services that were scary relevant to my life. Now, it's a common practice to see ads catered just for us based on our web algorithms and what we've been looking at. So, no, I'm not surprised that credit card companies use trends in consumer behavior to label us, judge us, and then attempt to make it work in their favor."
Woodruff explains a bit about each score in her article, summing up the behavior score as a way for lenders to determine, based on where their borrowers shop, what type of candidate they are and how they should approach this consumer. Nazari is quoted as saying, "For example, if you normally shop at high-end stores and regularly pay off your card, and then suddenly start shopping at discount stores and carrying a balance, the lender could use this behavior data as an indicator that you have become higher risk and could take steps to minimize its exposure. Alternatively, if your behavior data indicates you are a good risk but you aren't generating a profit, an issuer might determine how to incentivize spending."
RoadFish.com encourages consumers to "play the credit game as though it's only against yourself." RoadFish.com's Senior staff writer is quoted as saying, "Don't get sucked in by offers and specials, or those cash back incentives when you can't afford to be putting anything on your card. It's like how I operate when I shop: if I see something on sale, I ask myself, would I still want to buy it if it were full price or am I only getting sucked in by the discount? Don't get lured in by the games that credit lenders play, the ways in which they try to get you to spend more. Don't look at the offer and think, Ooh I have to take advantage of this right now! Operate as you would normally, or even more sparingly if you're on a tight budget this month or the next. My point is to not let the opponent's moves affect you. Focus inwardly, on your budget, your financial goals, your reality."
Business Insider reporter Mandi Woodruff is the editor of "Your Money," and has previously reported breaking legal news for Law360.com. She has also had her articles appear in the Financial Times, Daily Finance, and the Christian Science Monitor.
About RoadFish.com
RoadFish.com is an online magazine featuring men's lifestyle and finance articles. RoadFish.com targets an audience of male readers in their 30's and 40's, who are self-motivated and enjoy the challenge and accomplishment of new goals. RoadFish.com reports on topics such finding a top-notch dating service, providing restaurant and hotel reviews, and reporting on the latest luxury items for men. RoadFish.com also dishes out financial advice on things like debt reduction and how to take advantage of one's free credit score.