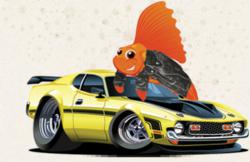 A credit score should by no means be a be-all-end-all, because unlike many things about somebody's character, morals, or personality, a credit score is changeable.
San Francisco, CA (PRWEB) January 16, 2013
RoadFish.com men's lifestyle and finance magazine today issued their support of a recent San Francisco Gate article which cautioned singles to steer clear of dating—or not dating—an individual based on their credit score number. The SF Gate's story went against the grain of the current trend of analyzing a date's credit score in order to determine that person's eligibility for dating.
Back in December, credit score dating became a hot topic of interest when a New York Times story about a Chicago flight attendant who was asked her credit score on the first date with a man, who then dumped her because he believed that her score was too low, went viral. Since then, the topic has sparked a lot of media attention and shone a spotlight on websites such as creditscoredating.com and datemycreditscore.com, which are geared specifically towards people for whom a good credit score is a major priority in a mate.
Amy Fontinelle of the San Francisco Gate reported that there are a number of reasons why it is not a good idea to judge somebody's trustworthiness or financial skills based on their credit score, including the big factor—that a person's current score is not necessarily indicative of their present or future behavior. Fontinelle points out that many people are irresponsible or simply uneducated about money in their younger years, and are bound to make some careless or inexperienced financial mistakes. She also states that these same people can, and many do, grow up to have good jobs, make good money, pay credit cards on time, and otherwise handle money responsibly. It does however take up to seven years for damaging account data to fall off a credit report, leaving an otherwise great person with a poor score that does not reflect their present situation.
RoadFish.com could not agree with Fontinelle more, and points out that watching a person's spending habits is much more indicative of their financial responsibility than simply asking them their credit score. RoadFish.com's Senior staff writer is quoted as saying, "I think it's utter nonsense to ask somebody their score on the first date, and then without even knowing why it is the number that it is writing that person off. It's not too hard to take a good hard look at somebody to see how they are conducting their finances, if that's what you're interested in. Look at whether the person is spending wisely, or whether they overspend and overindulge, whether they have a good job, whether they spend carelessly on unnecessary things, whether they keep a budget, whether they're putting money into a 401(k). Habits like these things will tell you a lot more about somebody than just their score. If you're watching TV and that new Score Planner commercial comes on, and she says, 'I use that!,' chances are she's a financial keeper regardless of her actual score. It shows that she's working on improvement."
The SF Gate article also make the point that a credit score fails to tell about a person's character, because past events like an illness, unemployment, or divorce could have set the wheels in motion for a bad financial state for somebody. Tough financial times can lead to late payments, increased debt, and a lower score. Fontinelle suggests that if a partner is usually the responsible, hard-working type, then a low score could just be a temporary stumbling block and not a glimpse of their finances to come in the future.
RoadFish.com applauded the SF Gate for taking a stance against the growing trend of judging a potential mate based on his or her credit score, and hopes that singles will cut each other some slack in the finance department. RoadFish.com's Senior staff writer is quoted as saying, "We're still on the heels of a pretty major recession, and a lot of people had it very rough. I think, with that in mind, that we need to cut each other some slack all the while keeping in mind that not everybody understands how credit scoring works. And if you don't understand the rules of the game, you can't play the game very well. There are tons of reasons why a person's credit score may be suffering, but there's also a lot of things that person can do to fix it in the present or future. A credit score should by no means be a be-all-end-all, because unlike many things about somebody's character, morals, or personality, a credit score is changeable."
Fontinelle writes in the above-mentioned article that bad credit can be improved within a few short years by doing things such as using less available credit, making timely credit and utility payments, increasing the length of credit history on one or more accounts, and paying debt.
About RoadFish.com:
RoadFish.com is an online men's magazine that reports on lifestyle and finance matters of interest to male readers in their 30's and 40's. RoadFish.com includes articles about online dating service, hot chicks, and other dating tips as well as restaurant reviews and men's luxury item reviews. RoadFish.com commonly features article about hip events for industry professionals. RoadFish.com is owned and operated by Purpose, Inc.