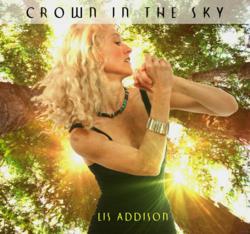 Crown in the Sky once again features Addison's sultry, earthy, sensuous vocals, wrapped in state-of the-art electronics...and infectious, percolating beats.
San Rafael, CA (PRWEB) March 06, 2013
When it comes to the music of Lis Addison, what begins as simply listening to a song often ends up as a transformational experience. Drawn to the award-winning composer, vocalist and producer's sultry vocals and chill electronica music, listeners soon discover a world of enlightening work by this multi-dimensional artist who lives her art everyday as a musician, dancer and eco-activist. Her new album, Crown in the Sky, launched this week, and today she announced a CD release event incorporating dance as part of the Earth Day activities at Civic Center Plaza, 355 McAllister Street, San Francisco, CA, on Saturday, April 20, from Noon-12:40 p.m.
Crown in the Sky embraces archetypes of the Divine Feminine and Mother Urth. Interestingly enough, it's a concept album born out of a rock opera. According to Addison, "These songs came to me decades ago as accompaniment to a performance piece I wrote about a mythical, ancient-future matriarchal society that lives in harmony with nature. After many rewrites and edits, I decided to release the songs because the messages are so pertinent to our lives today as we seek ways to protect the environment for our future and that of our children."
Going beyond vocals and beats that evoke comparisons to Imogen Heap, Green Children and Enigma, Addison infuses her music with a wise green consciousness, subtly encouraging our natural connection to Mother Urth. Among her previous five releases are The Grace of the Green Leaf (which won Zone Music Reporter's Best Vocal Album of 2010) and Song of the Tree, which debuted at #2 on the ZMR Charts. Addison embraces the trees again on Crown in the Sky, while also reminding that the sacred crown is accessible deep within all of us.
Early reviews suggest that Addison has created her deepest transformational musical experience to date with this album. Bill Binkelman writes, "Crown in the Sky once again features Addison's sultry, earthy, sensuous vocals, wrapped in state-of the-art electronics (just like her last two recordings) and infectious, percolating beats…tasty chill-out rhythms and catchy electronica melodies, sometimes laced with reggae/dub influences or a smattering of world beat flavor."
All ten songs on Crown in the Sky were written by Addison, and lyrics can be found on the artist's website. Reviewer Dana Wright said, "Addison's lyrics project the love she feels for nature in every breath. From the tiniest acorn to the largest forest, this eco warrior is not afraid to express her devotion to the cause of environmental activism."
From an early age, Addison expressed a natural respect for the enormous role that trees play in our life, and takes her beliefs beyond her music, into action. Addison is a member of The Green Belt Movement, Roots & Shoots and Friends of the Urban Forest; she recently made a tree-planting service trip to Kenya and Tanzania and plans to return in mid-2013. In fact, the African women and children whom she met there are present on the new album, Addison says, explaining "It is my immense honor to have the voices of the Kamba women and children beneath the track on 'Bring Her Light.' On a recent visit to Kenya, I lived with these generous people and we sang, danced and planted trees together. I was able to use recordings from my visit there on this song."
While the environment is central to her work, Addison closes the circle by empowering women, nurturing and honoring community, and helping to create better social and economic opportunities for all. Putting passion into action and music into motion, Addison is also a visionary artist, performer and teacher who uses music and dance as transformational tools. Through KiVo: The Kinetic Voice, an innovative vocals and dance style she created, she offers a truly mind body experience for participants. This past February, Addison played a key role in One Billion Rising, called "The Biggest Mass Global Action To End Violence Against Women & Girls In The History Of Humankind."
The media often calls Addison's music "genre-defying," which may be due to her impressive musical background, including a B.A. degree in Music Composition and Environmental Science, and an M.F.A. in Electronic Music from Mills College, where she studied Western Classical Music, North Indian Raga Singing and the Avant-Garde, while cutting her teeth on popular music forms at night in her reggae band "The Magnets."
The album was recorded, arranged and produced at her Singing Tree Studio, San Rafael, and, mixed and mastered by Chris Krotky of 7Generations Studio (7generationstudio.com) in Forest Knolls, CA. Addison plays keyboards, bass, guitar parts and electronics, and is joined on the album by her husband, Dean Foster (deandigitalmedia.com), contributing most of the beats, bass parts and the cover art; Kit Walker (kitwalker.com) also played keys, beats and bass on three songs.
Crown in the Sky is distributed in retail specialty stores by New Leaf Distributing, and online at her own website, Amazon, CDBaby, and iTunes. Addison is a member of the American Society of Composers, Authors & Publishers (ASCAP), The Recording Academy, and Phi Beta Kappa. Her music is published by the Hildegarde Publishing Company and her own All Aglow Music Publishing Company.
For additional information or interviews, contact Beth Hilton, The B Company, at 310-560-8390, or, bethhilton(at)thebcompany(dot)com.
Connect with Lis:
lisaddison.com
facebook.com/LisAddison
twitter.com/LisAddison
youtube.com/user/kimrosel
Track List:
Voice of the Tree
New World
Look Into Your Eyes
Bring Her Light
Hearts & Bones
Turn to Gold
Carry Me
Crown In The Sky
Mother Gaia
How Deep