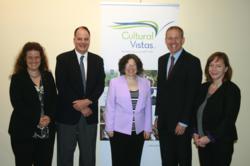 Francine's passion for international education and experiential-based learning is a perfect match with the mission and vision of Cultural Vistas.
NEW YORK (PRWEB) May 30, 2013
Cultural Vistas is pleased to announce the appointment of Dr. Francine Blume as its new Vice President of J-1 Programs. Blume comes directly from American University, where she has served as the Director of Experiential Education since August 1998.
"We are extremely excited to welcome Francine to the Cultural Vistas family," said Cultural Vistas President & CEO Robert Fenstermacher. "She brings a wealth of knowledge and expertise related to experiential education that will further strengthen the quality of our J-1 exchange programs and enhance their educational and cultural impact.
"Francine's passion for international education and experiential-based learning is a perfect match with the mission and vision of Cultural Vistas."
Along with a wealth of higher education experience and expertise, Dr. Blume shares a commitment to the "learning by doing" philosophy emphasized across Cultural Vistas' portfolio of professional exchange programs.
"I am incredibly excited to bring together my two passions of international education and experiential learning in this role at Cultural Vistas," said Blume. "I look forward to working with an incredibly talented team of professionals who work so hard to bring the dreams of cultural exchange to fruition for thousands of students and professionals."
Dr. Blume brings with her almost 15 years of experience leading experiential learning initiatives while at American University, where she helped lead the implementation of career services for over 5,000 students annually.
In this role, she was actively engaged in developing and implementing new instructional media and technologies, as well as the overall assessment of programs and activities. She also oversaw the work of the School of International Service (SIS) and School of Public Affairs (SPA) teams at the AU Career Center.
Dr. Blume previously served as the Director of Education and Training at NAFSA and the Director of International Programs for The Washington Center for Internships and Academic Seminars.
Her professional endeavors also include seven-plus years as an adjunct teacher at Georgetown University focusing on Justice and Peace Studies, educational program development and direction with nonprofits and educational organizations, curriculum development for a refugee resettlement project, and teaching English as a second language.
Blume earned her doctorate in political science in 1992 from the University of Hawaii at Manoa. She also holds a master's degree in instructional development and technology from the Southeast Asia Interdisciplinary Development Institute in the Philippines and a bachelor's in sociology from the University of Missouri, Kansas City.
About Cultural Vistas
A non‐profit organization, Cultural Vistas has facilitated professional exchange programs and services for visitors coming to the United States, and Americans seeking overseas experiential learning opportunities, since 1950.
Cultural Vistas is authorized by the U.S. Department of State as an Exchange Visitor Program sponsor in the Intern, Teacher, and Trainee categories of the J-1 Visa. The Exchange Visitor Program fosters global understanding through educational and cultural exchanges. – Learn more at culturalvistas.org.
Follow @CulturalVistas on Twitter