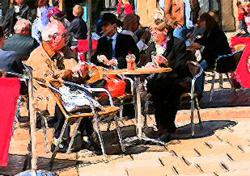 It does not naturally follow that because there are more logos on the high-street that we have a more competitive banking environment
London, Westminster (PRWEB UK) 21 June 2013
Just a day after George Osborne revealed, in his annual 'Mansion House' speech, plans to press ahead with returning Lloyds to private ownership, it has been revealed (in the Guardian - 20 June '13) that he has also instructed the OFT to investigate the possibility of a bigger sell off of their branch networks if it could increase UK banking competition.
The chancellor confirmed he had requested that the OFT to consider, "…what more can be done…" to foster competition for UK small businesses banking.
As detailed in the same Guardian article; under plans already agreed with the EU as part of projects "Rainbow" and "Verde", RBS is already due to sell 316 branches and LBG 632 branches, but the chancellor (responding to calls from the parliamentary commission on banking standards, which has already instructed the OFT to review small business banking) stated that he wanted "…to make sure our small firms get a fair competitive deal from the banks".
A spokesperson for compareandsave commented:
"It's great to see that the government are exploring all routes to ensure the UK banking industry is as competitive and diverse as possible. However, they must approach this with a degree of caution. It does not naturally follow that because there are more logos on the high-street that we have a more competitive banking environment.
The UK banking landscape has developed naturally over time as a response to the competitive and regulatory environment in which it exists – we shouldn't imagine we there are 'quick-fix' solutions and we must be sure that change is not made simply for getting good headlines."
_______________
compareandsave.com is one of the UK's leading current account comparison websites. Based in Colchester, Essex, compareandsave.com has been helping UK consumers get a better deal on credit cards, savings accounts, personal loans and more for over five years.