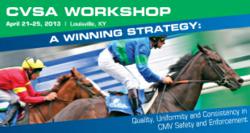 The true value of our Alliance is the successful implementation of commercial vehicle safety initiatives developed by an open and collaborative environment of multiple stakeholders.
Greenbelt, MD (PRWEB) April 09, 2013
Each year, the Commercial Vehicle Safety Alliance (CVSA) Workshop provides the ideal opportunity for stakeholders—government officials, enforcement and industry—to continue their mission to achieve quality, uniformity and consistency in CMV safety and enforcement throughout Canada, Mexico and the United States. The 2013 CVSA Workshop is taking place in Louisville, Kentucky, April 21-25, 2013.
This conference is one of the regularly scheduled, in-person Commercial Vehicle Safety Alliance (CVSA) meetings that take place throughout the year in order to facilitate collaboration among CMV safety and security professionals from all across North America. CVSA's technical working committees, programs, members and elected leadership meet during the Workshop to continue their work together in furtherance of CVSA's mission and to help save lives.
According to CVSA President Mark Savage, a major with the Colorado State Patrol, these important face-to-face meetings enable the Alliance to affect meaningful change to the overall culture of transportation safety. "The true value of our Alliance is the successful implementation of commercial vehicle safety initiatives developed by an open and collaborative environment of multiple stakeholders. The CVSA Workshop and other meetings during the year are critical components for the Alliance's success. I encourage all commercial motor vehicle safety and enforcement stakeholders to participate in this vital forum."
Pre-Conference Events
In addition, the CVSA Workshop features pre-conference workshops and education sessions on some of the most important topics currently facing the CMV safety and security industry.
The North American Cargo Securement Harmonization Public Forum is taking place on Sunday, April 21. This public forum is an unrestricted event open to all stakeholders to voice issues/concerns with the cargo securement regulations in pursuit of developing and implementing uniform regulatory requirements for the securement of cargo on, or within, commercial motor vehicles throughout North America.
The Information Systems Users Workshop is scheduled for Sunday and Monday, April 21-22, and is specifically for state data analysts for the purpose of evaluating and improving on data quality, accuracy and consistency. This event is only open to state government personnel.
New this year is the Technology Impacts on CMV Driver Direct Field of Vision Symposium on Monday, April 22. The purpose of this day-long program is to give enforcement experts, industry representatives and federal regulators the opportunity to improve their common understanding of the balance between the benefits and the possible risks of using electronics, window tint, sun visors and window shades, and other products that can interfere with the driver's field of vision.
Two additional pre-conference programs also are slated for Monday, April 22. The Life Cycle of a Roadside Inspection Violation Seminar is designed to give motor carriers and drivers the opportunity to gain a better understanding of the roadside inspection program and the importance of regulatory compliance. Participants will follow a violation through the entire process—from its discovery during a roadside inspection through is expiration from the CSA safety score—and learn how CSA impacts them.
IRP & IFTA Training Sessions are also being conducted. The International Registration Plan (IRP) is a registration reciprocity agreement among states of the United States, the District of Columbia and provinces of Canada providing for payment of apportionable fees on the basis of total distance operated in all jurisdictions. The International Fuel Tax Association, Inc. (IFTA) is a not-for-profit corporation formed to manage and administer the International Fuel Tax Agreement.
Complete program details and registration options are available at http://www.cvsa.org/workshop.
About the Commercial Vehicle Safety Alliance
CVSA is an international not-for-profit organization composed of local, state, provincial, territorial and federal motor carrier safety officials and industry representatives from the United States, Canada and Mexico. Our mission is to promote commercial motor vehicle safety and security by providing leadership to enforcement, industry and policy makers. In addition, CVSA has several hundred associate members who are committed to helping the Alliance achieve its goals, uniformity, compatibility and reciprocity of commercial vehicle inspections, and enforcement activities throughout North America by individuals dedicated to highway safety and security.