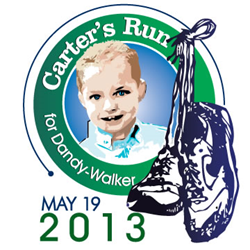 There are many variations to the degrees of Dandy-Walker, it can appear dramatically or develop unnoticed.
Ashburn, VA (PRWEB) May 16, 2013
The second annual Carter's run/walk for Dandy-Walker Syndrome will be on May 19, 2013 at Ashburn Elementary School in Ashburn, VA. Dandy-Walker, a congenital brain abnormality, effects 1 in 2500 babies and this event intends to raise awareness about this little know syndrome.
Dandy-Walker Syndrome is a congenital brain malformation involving an area at the back of the brain that controls movement. Symptoms, which often occur in early infancy, include slow motor development and progressive enlargement of the skull. At last year's 5K run, $35,000 was raised for Dandy-Walker research.
Carter Zimmerman is a 5-year-old resident of Ashburn who has Dandy-Walker. The run/walk that bears his name is expected to raise thousands of dollars with all proceeds from the event being donated to the Dandy-Walker Alliance, a non-profit corporation based in Kensington, MD. DWA is committed to increase public awareness about Dandy-Walker Syndrome. They support all efforts to determine the cause of, find the cure for, and to ameliorate the effects of Dandy-Walker Syndrome.
This year's run/walk will start at 9:30am on a certified course beginning and ending at Ashburn Elementary School, located at 44062 Fincastle Drive in Ashburn, VA. Prizes will be given to the top three male and top three female finishers. Additionally, there will be prizes given to the top 3 boys, ages 12 and under and top 3 girls, 12 and under. The race will be electronically timed and the results will be posted following the race.
Registration is $30 for runners and $20 for walkers and includes a commemorative dry wick t-shirt. In addition to the run/walk, there will be a performance by The Great Zucchini as well as lots of fun stuff for the whole family - face painting, glitter tattoos, balloon art, moon bounces, a photo booth, a raffle and much more.
For more information about the race, sponsorships, participation or donating to Carter's Run contact Lisa.Zimmerman(at)dandy-walker(dot)org or visit http://www.cartersrun.org