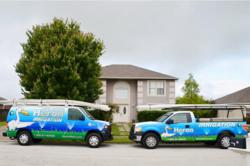 Daytona Beach, FL (PRWEB) February 19, 2013
Everyone wants a green healthy lawn. It can seem strange that so many Florida lawns are unhealthy when it comes to something so simple. There are three key ingredients to a healthy lawn: proper mowing, fertilization and efficient irrigation. They all play a vital role and without any one of these three, a lawn will never reach its full potential. Irrigation is by far the most over looked, common mistake.
Most homeowners have an irrigation system that is set to come on at correct watering times and they assume the system is efficient. The problem and most common misconception is that just like a car needs tune-ups and oil changes, Daytona Beach irrigation systems also need maintenance.
An efficient, well-maintained Daytona Beach irrigation system will also conserve water. It's common to see improperly positioned heads resulting in sprinkler heads pointed at the street and wasted water running down the sidewalks. Leaking heads are also big water waster. Just one leaking irrigation head wastes 30-60 gallons of water per application.
Heron understands that when a customer calls with an issue on their property they need it repaired right away. Whether it's a small sprinkler repair or a revamp of an entire system, Heron Irrigation's trained technicians have the knowledge and experience to handle any Daytona Beach irrigation issues. Response time is critical especially in the case of a burst pipe or leaking head that wastes water every time the system comes on. Because of this, Heron will have someone on the property the same day. Heron Irrigation is committed to handling each and every one of their customers' concerns and bringing their Daytona Beach irrigation systems up to maximum efficiency. Providing environmentally friendly programs and offering effective solutions that will save water are one of Heron's most common requests. Heron is proud to be "Your Green Choice."
The experts at Heron Irrigation understand that customers take pride in their properties and want to come home to a green healthy lawn that is properly irrigated. It is Heron's commitment to bring their customers' irrigation systems up to maximum efficiency and keep it that way.