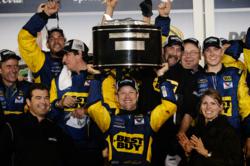 (PRWEB) January 17, 2013
The 55th Daytona 500 will kick off on February 24th, 2013 at 1:00 PM, and features seasoned veterans and rookies alike. Pack racing and bump and run strategies will likely also be a major part of the Daytona 500 this year. Preseason Thunder testing featured a 12-car wreck when Dale Earnhardt Jr. attempted to push-draft Marcos Ambrose.
Both Danica Patrick and Ricky Stenhouse will both be on the hunt for the Sprint Cup Rookie of the Year award this year, joining the usual cast of NASCAR drivers responsible for enormous Daytona 500 tickets sales last year.
The Daytona 500 will feature a newcomer in vehicles as well, with the Gen-6 Sprint Cup Series car set to replace the Car of Tomorrow. The Gen-6 was developed over two years with the cooperation and support of NASA, and has fueled a dramatic increase in interest in 2013 Daytona 500 tickets.
But not everyone is optimistic about the new cars drivers will be sporting in NASCAR this year. Some drivers have complained that the new cars are unstable and make it much more difficult to push-draft. According to racer Jeff Burton, there will be accidents during the Daytona 500 in 2013 and he wonders how "bad the cars will handle." Some fans worry that officials have also apparently ignored the push-draft difficulties of the new cars, claiming that drivers will ultimately make the decision not to push-draft at all.
Regardless of the drama unfolding already in NASCAR, analysts expect 2013 Daytona 500 tickets to sell well this year, especially with the debut of the Gen-6 and the possibility of an action-packed, although dangerous according to Burton, race. 2013 Daytona 500 tickets are now on sale at HeadlineTickets.com.
HeadlineTickets.com is one of the most popular secondary ticket exchanges on the Internet, with tickets available for sports, theater, and concert venues across the United States and Canada. Search the site for local entertainment in many local areas at prices that competitors can't match. Headline Tickets Now is an accredited business with the Better Business Bureau (BBB) of Western Pennsylvania.