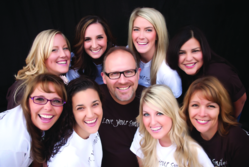 Matt Comfort is an awesome dentist! He and his staff are very thorough and professional. They do a good job making the environment laid back and friendly so that you feel relaxed during your visit. I highly recommend Dr.Comfort DDS practice to anyone.
Sacramento, CA (PRWEB) June 04, 2013
Matt Comfort DDS proudly announces a new website offering cosmetic dentistry and treatment planning services in Roseville, California and surrounding communities. They restore and enhance smiles. They are also offering visitors to the website the opportunity to get a free smile analysis. This Roseville dentist provides quality dentistry for families, including preventative care and education. The entire team at the office works to build a foundation of trust by making visits as relaxing and comfortable as possible.
Dr. Matt has put a team together of skilled Dental Assistants, Hygienists and office personnel who are all dedicated to providing excellent personalized care. He says, "I put together one of the best teams I've ever seen, clinicians who are committed to giving superior service and getting superior results. We attend dental lectures, meetings and conventions, so we continually are learning and keeping up with the latest developments."
In one survey conducted by the American Academy of Cosmetic Dentistry, it was shown that 97 percent of patients wishing to receive cosmetic dentistry had the primary concern of appearance. Following that were 87 percent of the patients who were concerned with cost, and 79 percent who had the concern of longevity of treatment. Matt Comfort's practice of cosmetic dentistry Roseville, CA takes every concern into consideration with his patients. He and his team work to alleviate any concerns. And of course, improved appearance and brighter smiles are the primary goals.
His patients give proof to Dr. Matt's professionalism and care. One man elaborated on how he and his family have been Dr. Matt's patients for more than five years, and how they have always been treated with the utmost kindness and respect. Another lady said that she has trusted Dr. Matt with her five children's dental needs for a number of years; that going to him is like going home.
His new website offers much information on dental procedures, the facts behind why they are performed and the services offered at his Roseville office. These include cleanings and prevention, periodontal treatment, restorations and orthodontics. His cosmetic dentistry services include dental implants, porcelain inlays, onlays, crowns, fixed bridges and veneers. Teeth whitening is a popular procedure and many patients rely on him to keep their smile looking bright.
Dr. Matt Comfort is happy to announce the launch of his new website as it provides information about his practice, his team and gives the visitor the unique opportunity to get a smile analysis and find exactly what would be needed to make a smile simply beautiful. His high standards and uncompromising safety for his patients gives them trust in his services in every way.
About Matt Comfort DDS: Matt Comfort DDS graduated from the University of the Pacific's Arthur A. Dugoni, School of Dentistry in San Francisco and went on to receive comprehensive cosmetic training at the University of California, Los Angeles. He continued with further specialized training in the placement of dental implants. Dr. Matt is a member of the California Dental Association and the Board of Directors of the Sacramento District Dental Society. He is committed to achieving twice what is recommended for minimum education standards. Dr. Matt also assists in many charity organizations including the SDDS Smiles for Kids charity program.