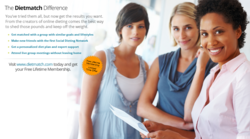 Our goal is to match up dieters with people who are like them – whether it is by age, gender, health conditions, fitness levels and more," says Dietmatch CEO David Humble.
Fort Lauderdale, FL (PRWEB) May 20, 2013
The founders of Dietmatch, Inc. announced today the launch of a customized online weight loss program that matches like-minded dieters in their weight-loss journeys within the appropriate Dietmatch group. The first social dieting network, Dietmatch.com offers personalized healthy diet plans, weight loss tips and support through online live group meetings and pre-recorded meetings by a registered dietitian or expert. For a limited time only, Dietmatch is offering lifetime free memberships.
The executive team responsible for creating eDiets, the premiere Internet weight loss company, has banded together once again – this time to change the face of online dieting. By combining all of the components that make an online weight loss program successful and utilizing cutting edge technology, Dietmatch, Inc. offers an innovative approach to shedding those extra pounds.
"Our goal is to match up dieters with people who are like them – whether it is by age, gender, health conditions, fitness levels and more," says Dietmatch CEO David Humble. By having more in common with their group members, Dietmatch members will be more likely to continue in their weight loss program and achieve success. Research has found that dieters who have support systems in place are more successful at losing weight and keeping it off.
"When users complete the Dietmatch.com profile, our state-of-the-art proprietary software creates a customized and comfortable support system where our dieters understand each other's goals and challenges. Finally, a program where your fellow dieters 'get' you," explains Humble.
While many people struggling to lose weight often feel alone in the process, they are far from it. The latest government statistics revealed that almost 70 percent of adults and 32 percent of school-age children are overweight or obese. A study conducted by the International Food Information Council Foundation determined that 55 percent of people want to lose weight, while findings by the market research firm NPD group found that an estimated 60 percent of adults want to shed a minimum of 20 pounds.
With the desire to achieve lasting weight loss more prominent than ever, Dietmatch.com is once again changing the landscape of dieting. Dieters no longer have to turn to traditional brick-and-mortar meetings where they struggle to find common ground with members from different walks of life. With Dietmatch.com, dieters enjoy live online meetings with people similar to themselves, along with healthy diet plans, tips to lose weight and a diverse array of online tools at their fingertips.
The social aspect of Dietmatch.com is already a proven formula for successful weight loss. A 2009 study conducted by Harvard School of Public Health, determined that participants who attended group counseling sessions lost more weight and kept it off.
Dietmatch.com is currently running an introductory offer that is unparalleled. For a limited time, members who join Dietmatch.com will receive a free lifetime membership.
David Humble says, "Having helped more than two million people lose weight in the past, our team of experts is prepared to pick up where other weight loss programs have left off. We have brought together all of the integral components of offline and online dieting in one convenient destination.
About Dietmatch, Inc.
From the creators of online dieting comes the next evolution in Internet weight loss programs – a social dieting network matching members with others who have similar weight goals and lifestyles. Dietmatch, Inc. was founded in May 2011 by the father of online dieting, David Humble. Through the next generation of online dieting, members receive customized healthy diet plans, weight loss tips, online weight loss tools, as well as unlimited access to expert advice and live groups meetings via the Internet.