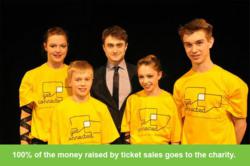 When you buy a ticket for our online charity prize draw - not only are you in with a chance to scoop the big prize - but you are also donating to charity - it's win, win.
(PRWEB UK) 1 May 2013
Donations Made Simple, a new way of supporting charities to raise awareness and vital funds, blends the power of the crowd and the opportunity to easily share and amplify messages via social media. It's a fun, simple - online charity prize draw.
Howard Graham – Founder of Made Simple Group – and Director of Donations Made Simple says…
"Given that donating to charities online is growing in popularity our model provides a way for charities to harness the power of social media and online sharing to fundraise – whilst providing a fun, simple and engaging way for people to donate to charity online.
The lure of a 'prize draw' – has always engaged us. From school raffle tickets through to the National Lottery – there's no doubt about it – we're keen to spend a few pounds to potentially win a big prize. The concept of a 'Charity Prize Draw' is a tried and tested one - with Donations Made Simple - we're taking that concept online - and enabling people to share and amplify the noise via social media.
A key part of the Donations Made Simple process is that when you buy a ticket, not only are you donating to a worthy cause, but you are also in with a chance to scoop the prize. It's win, win. And with this, our very first prize draw with Get Connected - 100% of the funds raised will be going direct to Get Connected."
How Donations Made Simple works
It's a very simple process.

The prize draw is created in collaboration with a charity – and a 'Ticket Target' (predetermined number of tickets that need to be sold to ensure the prize draw goes ahead) is set.
Prize draw tickets then go on sale – £5 for 5 tickets – and are promoted via the charity's databases and via social media activity.
People buying tickets (ie: making a donation) are encouraged to share the campaign with their contacts via social media platforms and email too – to ensure that the Ticket Target is met.
Once the Ticket Target is met – the prize draw goes ahead – a winner scoops the prize and the charity receives funds. Simple!
About the Charity – Get Connected
Get Connected is the UK's free, confidential helpline service for young people under 25 who need help, but don't know where to turn.
Get Connected was set up in 1999 by a partnership between the Suzy Lamplugh Trust and the British Transport Police, with support from Railway Children. The aim was to provide help to young people under 25 who had run away from home or been thrown out.
In 2001 they created a partnership with Carphone Warehouse that continues today.
Their team of 100 Helpline Volunteers are contacted by nearly 1,500 young people a week who need help with a wide range of issues including homelessness, self harm, bullying and drugs.
About Donations Made Simple
The people behind Donations Made Simple all have a background, in one way or another, of working with the charitable sector and are passionate about working with charities to raise much needed funds.
The recession and government cuts have made it increasingly difficult for charities, so Donations Made Simple (DMS for short) have come up with an innovative way to assist #charities whilst engaging both their supporters and the public at large.
The DMS proposition of an online charity prize draw, shared via social media - is fun, easy and affordable. It offers an opportunity for participants to win a major prize whilst at the same time, supporting a worthy cause.