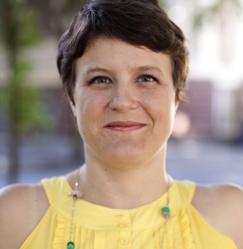 Holly's experience, talents, and skills will be vital to help us accelerate the growth and support of the Drupal community.
Portland, Oregon (PRWEB) February 04, 2013
The Drupal Association Board of Directors today announced it has appointed Holly Ross as the new Executive Director to lead the Association into its next phase of growth and beyond. The Drupal Association is the non-profit organization that funds and supports the growing Drupal open source content management platform project. Holly assumes her role starting today.
Holly joins the Drupal Association after 10 years at NTEN, the Nonprofit Technology Network, which works to help nonprofits use technology to create the change they want to see in the world. NTEN has a similar structure to the Drupal Association with a strong community of technologies, which she helped grow from just a handful of individuals to over 60,000 people. NTEN also holds an annual conference, and pulls together resources to support the technology needs of nonprofits around the country.
"Holly is a well-known visionary leader in the nonprofit technology community with a proven track record of developing and implementing organizational strategies that provide direct community benefit," said Dries Buytaert, president of the Drupal Association's Board of Directors. "Holly's experience, talents, and skills will be vital to help us accelerate the growth and support of the Drupal community."
"This move to the larger Drupal community will allow me to capitalize on my community-building experience and embrace the added challenge of helping this internationally diverse group collaborate on the Drupal project, as well as help grow Drupal worldwide," said Holly Ross. "I am already thoroughly enjoying this community and appreciate this group of colleagues who share the values and passion for technology that I do, and look forward to meeting hundreds of them at DrupalCon Sydney this week."
About The Drupal Association
The Drupal Association is dedicated to helping the open source Drupal CMS project flourish. Drupal powers millions of websites and software applications, from personal blogs to the largest enterprise applications, media publishers, universities and government agencies, including The Economist, Examiner.com and The White House websites. Drupal is constantly being improved by a community on Drupal.org of over 900,000 members in 228 countries, speaking 181 languages, with over 23,000 registered developers. The Drupal Association provides the support, infrastructure and funding to grow the Drupal community, help with online collaboration at http://drupal.org, and host and support DrupalCons, and other events around the world, such as this week's DrupalCon Sydney. Funds to support these programs come from memberships, sponsorships and donations. To learn more about the Drupal Association, the Drupal Project, and how to get involved and contribute visit https://association.drupal.org/.