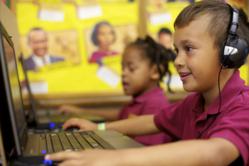 This effort is all about giving schools options. Our goal is to simplify access to an array of powerful digital content and applications and help make the data they produce immediately actionable.
San Carlos, CA (PRWEB) April 15, 2013
Education Elements, the leader in building Blended Classrooms that help schools integrate instructional practice and technology, announced that it has added over two-dozen new digital content and application partners to the ecosystem of educational products that integrate with its Hybrid Learning Management System (HLMS).
The HLMS is a cloud-based platform that provides students, teachers and administrators each with a single entry point to access digital content and the detailed performance data they need to guide instruction and learning. It leverages the latest cloud-based technologies to:

Simplify access to digital content and applications in the classroom
Distill detailed data from multiple sources into actionable insights
Facilitate personalized learning opportunities for every student
The HLMS integrates with digital content from leading publishers such as Pearson, Compass Learning, and Dreambox. The content portfolio features programs that demonstrate a robust and research-based pedagogy and a rigorous curriculum, and many are specifically designed for the Common Core. The HLMS also works with a multitude of lesson planning and classroom management applications such as Pathbrite, Goalbook, and Kickboard. It is an open platform that affords teachers and administrators the flexibility to present the right product to the right student at the right time.
"This effort is all about giving schools options. Our goal is to simplify access to an array of powerful digital content and applications and help make the data they produce immediately actionable. That's why we are so excited about the expansion of the ecosystem, because it gives schools more ways to effectively bring digital learning to life in the classroom for every student" says David Sanchez, Vice President of Product and Partnerships at Education Elements.
Together with its partners, Education Elements is helping redefine the role of digital content and applications in the classroom. The move to Common Core in many states is also helping accelerate the integration of digital content as a core curriculum fixture that serves the needs of all students. As part of its rigorous vetting process, the Education Elements content analysis team, which includes a number of deeply skilled former teachers, spends an average of 40 hours researching each partner in depth. This team uses a detailed rubric that considers aspects such as pedagogical approach, content depth, user interface, and data integrity. This information is also used to make recommendations for clients based on their unique needs and instructional objectives.
"Education Elements has been a valued strategic partner. Not only have they enabled high fidelity implementation at a number of our most advanced school partners, but they have also provided great technical and academic feedback that has made our product stronger." – says Arthur VanderVeen, Vice President of Strategy at Compass Learning.
Education Elements develops and maintains a rich ecosystem of leading online content and applications that serve grades K-12 and address core and supplemental material across reading, math, ELA, science, writing and social studies. The company collaborates with 3rd party developers to integrate access to both activities and performance reports into a single, unified experience.
About Education Elements
Founded in 2010 and based in San Carlos, California, Education Elements is an early-stage start-up that aims to help schools integrate instructional practice with technology to improve outcomes. Together with its cloud-based, instructional data integration platform, the company offers rich design and implementation services that help schools effectively build and run blended classrooms. Education Elements is currently working with over 50 district and charter institutions across the US that are pioneering the concept of the 21st century classroom.
Education Elements' ecosystem of content and application partners includes these leading companies:

Achieve3000
Apex Learning
BrainHoney
Compass Learning
Curriculum Associates
Dreambox
eSpark
Everfi
Exit Ticket
Goalbook
Gooru
Haiku
iLearn
Illuminate Education
Kickboard
Knowmia
Lexia Reading
MasteryConnect
Mimio
MIND Research Institute
McGraw-Hill
NearPod
Pathbrite
Pearson
PowerSpeak
Revolution K12
Schoology
Ten Marks
The Teaching Channel
Wowzers
To learn more, please visit our website:
http://www.educationelements.com