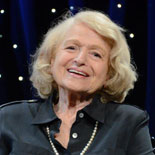 "I love the Olivia cruises. The diversity of people is incredible and the trips bring such joy. I've never seen or experienced anything like them in my entire life. I absolutely adore Olivia." --Edie Windsor
San Francisco, CA (PRWEB) May 22, 2013
Edie Windsor, Billie Jean King, Col. Grethe Cammermeyer, Cris Williamson and Tammy Smith will join Olivia, the travel company for lesbians, on the company's 40th Anniversary Virgin Isles New Year's Eve Cruise (December 28-January 4, 2014). Olivia brings together community legends and extraordinary talent onboard their trips and is pleased to have these true heroes onboard to celebrate Olivia's 40th anniversary and usher in the new year.
"Olivia has always been a company with a social mission, and as such we seek to honor and celebrate our collective history on our trips; in keeping with this, we have brought together these amazing women who have worked for changes that directly benefitted women and the LGBT community over the past five decades. To have women of such caliber onboard, sharing our 40th anniversary, is an incredible honor," said Judy Dlugacz, Olivia's President and Founder.
"Marriage equality, sports, military, music, civil rights—there is almost no area of society that these women have not impacted and changed for the better. We owe them a collective debt of thanks. They care deeply about the women's community, and are such incredible forces for social change," said Jill Cruse, Olivia's Vice President of Guest Experience and Strategic Partnerships. "It is especially fitting that they are on an Olivia trip, as our founder, Judy Dlugacz, has also been there all along, fighting for a place at the table for women and for lesbians, first through Olivia Records and now through vacations that allow women to travel in an out and free manner and to give back to the communities they visit. She is another strong woman who is shaping the future of LGBT rights globally."
About the special guests:
Edie Windsor is one of today's most relevant voices in the battle for marriage equality and LGBT civil rights. The 83 year-old icon from NY was thrust into the national spotlight when she sued the U.S. in 2010 after she was forced to pay $363,000 in federal taxes on the estate of her wife, Thea Spyer. Her case, U.S. vs. Windsor, is currently before the U.S. Supreme Court and, should the court rule in her favor, the groundbreaking decision will assist in tearing down portions of DOMA and furthering LGBT civil rights.
Olivia's history with Edie began with the screening of her 2009 award winning documentary, Edie and Thea: A Very Long Engagement, aboard one of Olivia's Alaska Cruises. This award- winning documentary chronicled Edie and Thea's 40-plus year relationship and subsequent marriage. Olivia was also honored to have Edie share in Olivia's 40th Anniversary Cruise earlier this year.
Upon being asked to travel with Olivia again, she remarked: "I love the Olivia cruises. The diversity of people is incredible and the trips bring such joy. I've never seen or experienced anything like them in my entire life. I absolutely adore Olivia."
Billie Jean King's professional tennis career is legendary and has been augmented by many top honors along the way: named one of the "100 Most Important Americans of the 20th Century" by Life magazine; received the Presidential Medal of Freedom from President Obama; was honored by having the National Tennis Center in Flushing Meado, NY, renamed the USTA Billie Jean King National Tennis Center; and founded World Team Tennis (WTT) and the Women's Sports Foundation.
Billie has long been a pioneer for social justice and a significant voice in the pursuit of equality for women in sports and in life. Olivia's friendship with Billie began many years ago and they are excited to welcome her back.
"Olivia cruises are one of our favorite vacations and I am personally looking forward to continuing the celebration of the 40th anniversary of Olivia and being part of a program that includes Edie, Grethe, Cris and Tammy. Amidst all of the relaxing on the high seas, with a group like this you can expect some energetic and enlightening conversations," she said.
Cris Williamson, one of Olivia Records' original recording artists, is lauded as a pioneer in women's music, being one of the first artists to create, perform and market her music specifically to women. Her groundbreaking recording, The Changer and The Changed, became the cry out of the 1970's women's and LGBT movements. She has played to multiple sold-out Carnegie Hall audiences and is a 40-year veteran of the international acoustic circuit. Cris was reunited with Meg Christian, another pioneer of Olivia Records, on Olivia's 40th Anniversary Cruise earlier this year.
Colonel Grethe Cammermeyer, known for her courageous 20+ year fight to ensure that LGBT people can serve openly in the U.S. military, knows well the discrimination that ensued from "Don't Ask, Don't Tell." While undergoing top-secret clearance scrutiny, she admitted to being a lesbian and was summarily separated from the military despite her exemplary record. After a lengthy federal court battle that challenged the existing bans on LGBT service members, she was reinstated in her previous position and eventually retired with honors and full military privileges.This tireless pioneer has been instrumental in the repeal of "Don't Ask, Don't Tell."
"Olivia cruises provide the safety of home where we can live our truth—if only for a week," said Cammermeyer.
Tammy Smith, also a military LGBT rights activist, made history in 2012 when her wife, Tracey Hepner, promoted her to Brigadier General. When Tracey placed the star on Tammy's shoulder, Smith became the first gay or lesbian flag officer to serve openly in the U.S. military. "There is something about the Olivia experience that is both powerful and empowering. The interactions with fellow guests are amazing; everyone has a bit of 'shero' in her own heart. My favorite part of each trip is meeting the others on board and learning their stories. I return home inspired each and every time!" she said.
These renowned special guests will be joined by an impressive lineup of Olivia performers, including comedian Vickie Shaw, comedian/musician Roxanna Ward, and spoken-word artist CC Carter.
About the voyage:
As it always does, Olivia has chartered the entire ship, ensuring that all 300 guests onboard this all-lesbian cruise will be treated to a memorable New Year's Eve celebration with these special guests. "We always charter the entire ship or buy out the resort property, and that makes a huge difference in the women's experience – they can be out and free, mingle with our entertainers and special guests, and really get to know each other. Because it's only Olivia guests onboard, we end up feeling like family by the end of the week," remarked Jill Cruse.
The final 40th anniversary festivities take place aboard the luxurious, 5-star Windstar Wind Surf, which is equipped with newly-refurbished staterooms and wide-open, uncrowded teak decks. This intimate, upscale cruise ship will call on Phillipsburg, St. Maarten; Falmouth Harbor, Antigua; Soper's Hole, Tortola, B.V.I; Jost van Dyke Great Harbor, B.V.I.; Virgin Gorda, Prickly Pear Beach, B.V.I.; and Gustavia, St. Barthelemy. "We are excited about setting sail on this gorgeous ship for a week of visiting ports that the larger cruise ships simply can't get to. The amazing beaches, gorgeous waters and the renowned special guests and entertainers we have on board means we will finish our 40th Anniversary year in a very special and meaningful way," said Tisha Floratos, Olivia's Vice President of Travel and Business Operations.
About Olivia's Year-Long 40th Anniversary Celebration:
Olivia began its 2013 40th Anniversary Celebration with two sold-out week-long southern Caribbean cruises that took 4,200 women and over 25 entertainers and special guests to Aruba, Curacao and a private Bahamian island. It continued with two Punta Cana 40th Anniversary Resort trips in May, and finishes with their 40th Anniversary Virgin Isles New Year's Eve Cruise (December 28, 2013-January 4, 2014).
About Olivia:
San Francisco-based Olivia is the world's premier provider of lesbian cruise, resort and adventure vacations. Under the direction of Founder and President Judy Dlugacz, the company launched as a women's record label in 1973 and expanded into travel in 1990. Since then, Olivia has taken over 200,000 women on over 190 cruise, resort, and adventure trips. Olivia contributes millions of dollars to LGBT organizations, including the National Center for Lesbian Rights, Human Rights Campaign, The National Gay & Lesbian Task Force, The Gay & Lesbian Alliance Against Defamation, Victory Fund, Mautner Project and other community and advocacy organizations worldwide. For more information about Olivia Travel, visit http://www.olivia.com or call (800) 631-6277.