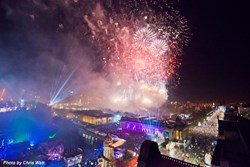 If you've never celebrated New Year the Scottish way, you're missing out. Edinburgh's Hogmanay is a one-of-a-kind party that shouldn't be missed!
Singapore (PRWEB) December 04, 2013
Agoda.com, Asia's leading hotel booking site and part of Nasdaq-listed Priceline Group (Nasdaq:PCLN), is providing superb hotel deals in Edinburgh, Scotland for Hogmanay, the traditional Scottish New Year and one of the biggest celebrations in Scotland's historic capital.
Hogmanay's origins aren't clear, but it was likely influenced by a combination of Gaelic, Viking, Norse, and even Roman traditions. Many Scots consider Hogmanay even more important than Christmas, as the traditional celebration of Jesus' birth was officially banned in 1640, allowing the New Year celebrations to become the main winter solstice event in Scottish culture. Indeed, Christmas Day only became an official public holiday again in 1958.
Today, Hogmanay is a key part of the larger year-end celebrations that begin in mid-November and go right through to the first week of January, but Edinburgh's main Hogmanay celebrations this year last from 30 December to 1 January.
Kicking off with the Torchlight Procession at 7pm, over 7,500 torchbearers and 20,000 participants will march from George IV Bridge through the city center, accompanied by massed bagpipes and drums, capped by a spectacular finale of fireworks and music. The following night – New Year's Eve – will see the world famous Street Party, offering three stages of entertainment, including Django Django, Chvrches, The Rezillos, King Creosote, Treacherous Orchestra and Fiddlers' Bid. If techno music sounds more interesting, head to Rewinder to catch performances from DJ Swiss and VJs Buttercup & Pixel, and if traditional Scottish music sounds like a better fit, visit The Keilidh at Mound Precinct on Princes Street for an outdoor performance that will go until the wee hours.
And if the energy is still there on New Year's Day, join the Queensferry Loony Dook, an annual event that starts with a parade and finishes at the River Forth as thousands plunge into the freezing water to help raise funds for the Royal National Lifeboat Institution, which has saved 140,000 lives at sea since 1824.
If ringing in the New Year as the Scots do sounds appealing, there's no better place to do it than in Edinburgh, and no better way to make it a memorable trip than with Agoda.com's fantastic hotel deals.
For more information, visit the official site of the Hogmanay here: http://www.edinburghshogmanay.org
Caledonian Waldorf 5*
Special Agoda.com price of $219 - 33% off the regular price. Book after 16 December, 2013. Expires 6 January, 2014.
The Scotsman 5*
Late check-in special! Book 2 days or less before the check-in date and save 10%! Expires 31 January, 2014.
Hotel Missoni 5*
Stay for a minimum of 3 nights and enjoy 15% off. Expires 31 March, 2014.
Radisson Blu Edinburgh 4*
Stay for a minimum of 3 nights and enjoy 10% off. Expires 31 March, 2014.
The George Hotel 4*
Stay for a minimum of 2 nights and enjoy 20% off. Expires 20 April, 2014.
Princes Street Suites 4*
Stay for at least 3 nights and enjoy 15% off. Expires 28 February, 2014.
Apex Waterloo Place 4*
Stay for at least 3 nights and enjoy 25% off. Expires 28 February, 2014.
Stay Edinburgh City Apartments 5*
Stay for a minimum of 5 nights and enjoy a 5% discount. Expires 28 February, 2014.
Albany Ballantrae 4*
Stay a minimum of 3 nights and enjoy 10% off. Expires 31 January, 2014.
To connect with Agoda.com for special deals on hotels worldwide, please visit our website at http://www.agoda.com. Like us on Facebook at http://www.facebook.com/agoda or follow us on Google+ at http://plus.google.com/+agoda