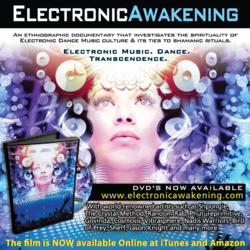 With world-renowned artists such as Shpongle, The Crystal Method, Random Rab, Phutureprimitive, Govinda, Bird of Prey and many more...
San Francisco, CA (PRWEB) February 13, 2013
Keyframe-Entertainment and The Federation of Earth are pleased to announce that Electronic Awakening is now available for download now on iTunes. It is also available through over 100 cable providers in North America. DVDs can be purchased by visiting Electronic Awakening.
Electronic Awakening is an ethnographic documentary film that investigates the spirituality of Electronic Dance Music (EDM) culture and its ties to ancient shamanic rituals. The film features dozens of experts and published authors who explore the premise that "Electronic Music is spiritual technology that allows access to higher states of consciousness". With music from world-renowned artists such as Shpongle, The Crystal Method, Random Rab, Phutureprimitive, Govinda, Bird of Prey, Jason Knight and many more. Electronic Awakening has screened at over one hundred locations, including Harvard, Yale University, Helsinki University, the EVOLVER Network, Burning Man, Canada, Europe, Australia and Japan.
Keyframe-Entertainment has recently joined the Electronic Music Alliance (EMA) Board of Directors. The EMA is a 501(c)(3) public charity and non-profit organization uniting the EDM community to be the "Sound of Change"; cultivating, collaborating, and celebrating social responsibility, environmental stewardship, community building, and volunteerism. Keyframe will support the EMA's mission to:
-Educate and activate our members to achieve positive social change by setting and implementing standards for social, ethical, and environmental responsibilities
-Advocate on behalf of our members to safeguard the electronic dance music community's rights.
Keyframe is partnering as Music Director with the web magazine Reality Sandwich, in launching Evolver EDM, the source for Conscious Electronic Dance Music. Evolver EDM will include interviews, reviews, news, mixes, festival information, and updates on transformational culture. Reality Sandwich subjects run the gamut from sustainability to shamanism, alternate realities to alternative energy, remixing media to re-imagining community, holistic healing techniques to the promise and perils of new technologies.
As Associate Producer of THE BLOOM, A Journey Through Transformational Festivals, Keyframe will direct the international screening campaign for the series. Directed by Jeet-Kei Leung, the first of four web series will launch on March 21. THE BLOOM, a ground-breaking new documentary web series, illuminates the blossoming phenomenon of Transformational Festivals, immersive participatory realities that are having profound life-changing effects on hundreds of thousands of lives.
Episode 1: Fundamental Frequencies = Inspiration * Connection * Healing. March 21, 2013
Episode 2: Practicing The New World = Co-Creation * Participation * Modelling. May 2, 2013
Episode 3: New Ways of the Sacred = Mythos * Ritual * The Sacred. June 13, 2013
Episode 4: Growth Edges of Evolving Culture = Gender Alchemy * Re-Indigenization * Re-inhabiting The Village. July 25, 2013
Please contact screenings.at.thebloomseries.dot.com for details.
Keyframe-Entertainment bridges underground EDM culture & the mainstream through transformational media (Film, Music, Visionary Art, Community Building, Social Networking, and Events). Our goal is to create global positive change and enhance the living experience by inspiring, informing and entertaining. Keyframe was launched 2004 as a music label and artist management company and over the years expanded its scope to include transformational films and events.