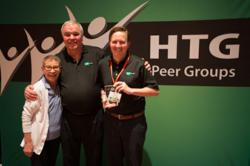 Ted Hulsy and the entire eFolder team demonstrate a true commitment to HTG on all levels
Atlanta, GA (PRWEB) May 17, 2013
eFolder, a leading supplier of cloud data protection and business continuity services for the IT channel, today announced that it has been recognized as the Vendor Sponsor of the Year by the HTG Peer Groups. HTG is an international organization comprised of over three hundred leading IT solution providers in North America, the United Kingdom and Australia/New Zealand. Each peer group consists of ten to twelve IT company executives who work together and share resources and information to formulate and meet business goals around strategic planning, process and financial improvement, and life-work excellence. IT vendors sponsor HTG, helping to defray the program costs for the member companies, while offering new partnership and engagement opportunities for channel partners and vendors.
eFolder was an original and charter sponsor of HTG and now has partnerships with over half of the HTG member companies.
"Ted Hulsy and the entire eFolder team demonstrate a true commitment to HTG on all levels," stated Arlin Sorensen, founder and CEO of HTG Peer Groups. "eFolder's long term commitment to HTG through their support of the traditional peer group program and the vendor peer group program, as well as their willingness to invest time in leading other new sponsors to become successful in HTG, made eFolder an easy choice for our 2013 Vendor Sponsor of the Year award."
"eFolder is a really unique company," said John Motazedi, CEO of SNC Squared, HTG member, and eFolder partner. "From how they recruit, to how they engage with channel partners in HTG, eFolder does things differently. Partners really take notice of vendors like eFolder."
"It is a true honor to be recognized as Vendor Sponsor of the Year," said Ted Hulsy, Vice President of Marketing for eFolder. "We are neither the biggest vendor, nor do we spend the most money in sponsoring HTG, but we take the job of helping partners very seriously. Our goal is to recruit, engage with, and help partners who share our vision and passion for serving clients and growing successful businesses. We also try to give back to the partner community wherever we can, true to the 'Go Giver' philosophy, which is central to the HTG culture."
Managed service providers (MSPs), solution providers, and value-added resellers (VARs) can learn more about HTG by vising http://www.htgpeergroups.com/
About eFolder
eFolder is a leading supplier of cloud data protection, business continuity, and cloud security services for MSPs, solution providers, and VARs. Delivered as wholesale services to the channel, eFolder enables its partners to provide branded data protection and security services and to generate highly profitable, recurring revenue. eFolder services complement many of the managed service offerings already deployed by partners and integrate with common PSA systems, making adoption of eFolder services fast and easy. eFolder also empowers cost-effective partner and end-user private clouds, allowing partners to meet the needs of any client, regardless of size or readiness to engage in public cloud services.
eFolder Social Media Links:
Website: http://www.efolder.net
Twitter: http://www.twitter.com/efolder
Facebook: http://www.facebook.com/efolder
Media Contact:
Ted Hulsy
VP of Marketing, eFolder
678-888-0700 x151
ehulsy(at)efolder(dot)net
eFolder is a trademark of eFolder, Inc. in the US and other countries. All other trademarks are property of their respective owners.
###