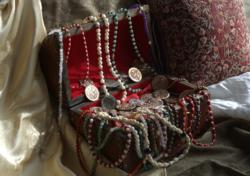 Students get a real kick out of learning how early artisans made incredible items. For example, Viking brooches were often made in a single-use clay mold. Casting failures were common, but the ones that came out whole can be awesome!
Flagstaff, Ariz. (PRWEB) January 08, 2013
Irene Davis of Eirny.com, announces the schedule of major teaching events for 2013. The mixed media metal and glass artist specializing in historic metal and glass reproduction jewelry, including Thor's Hammers, Odin pendants, Viking glass beads, Viking Valkeries, ancient amulets, one-of-a-kind glass goddess pendants, Roman glass good luck charms, bracelets, earrings, brooches, glass buttons, and other dress accessories, says that she will focus her teaching schedule on five week-long historical recreation events.
Confirmed events: SCA's Estrella War in Queen Creek, AZ, Gulf Wars in Lumberton, MS, Highlands War in Alpine, AZ, Pennsic War in Slippery Rock, PA, and Great Western War in Taft, CA. Ms. Davis will teach a variety of classes at each event including Viking Clothing, Viking Jewelry, Viking Dress Accessories, and pre-1600s Prayer Beads. Information on each event is available through her website eirny.com
Irene Davis teaches many different manufacturing techniques that are appropriate to make pre-1600s items. She shows how to use the same methods as were used to make the original item. She observes, "There's something really magical about carving a piece of soapstone using simple hand tools to make your mold. It isn't easy but it is rewarding – especially when you cast some molten pewter and get out something that you designed yourself."
Davis went on to say that often her female students are intimidated by the 500 degree plus melting temperature of pewter. But she says women routinely deal with similar temperatures when using an oven or toaster.
"A few simple precautions can minimize the danger," Davis says.
Irene Davis has more than 30 years experience as a jeweler to complement her graduate degree specialization in Archaeology and post graduate work in mixed media art.
She says, "My students learn the basics of each topic in hands-on classes. The details and reference sources are distilled to an essential core of knowledge that aids re-creators to improve the look and accuracy of their clothing and accessories."
Her Prayer Bead class offers a retrospective of pre-1600 forms made with precious and semi-precious stones. To date, Davis has taught more than 1,000 students how to make pre-1600s items. Her students have come from around the world including Guam, Hawaii, Japan, Australia, Canada, Mexico, New Zealand, Germany, Finland, Sweden, France, Great Britain, and the US.
Davis' own mixed media art employs stone carving to make intaglio pendants, lamp work glass techniques to create beads and small glass sculpture, soap stone molds for pewter casting, lost wax casting to make silver and bronze jewelry and dress accessories, and sand casting for some items. She is an accomplished metal smith working in base metals, bronze, silver, and gold. Her work has been shown in art galleries and resides in private collections around the world.