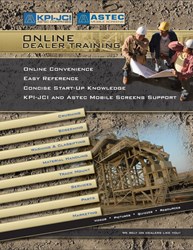 . . . make training on location much more productive. Dealers must pass the online training before attending on-site training, which means their knowledge level is right where it needs to be to take the next steps in person
Jacksonville, FL (PRWEB) November 19, 2013
Advantage Design Group announces the launch of KPI-JCI and Astec Mobile Screens' employee and dealer training web based software program. The training provides insight into who the company is and how their products work for dealers. It explains complex processes in a concise manner; and proves how KPI JCI and Astec Mobile Screens support dealers better than anyone else in the industry. The solution provides core knowledge and a certification so that the advanced on location training is more productive. It's convenient for busy dealerships, cost-effective to quickly train new hires during growth stages, and remains available as a resource at all times.
After exploring several online presentation products to accomplish their training goals, KPI-JCI quickly learned that they were time-consuming, and not as intuitive as promised. But KPI-JCI and Astec Mobile Screens found their answer in a comprehensive online employee training software program custom built by Advantage Design Group.
The Vision. Armed with the knowledge gained through consultative sessions, Advantage Design Group set out to create a customized online training solution. The effort encompassed product research, program organization, script and content writing, spokesperson talent search, video production, creative design, and technical functionalities. With a required login, the final product not only includes quizzes and scoring, but tracking and completion certificates. All branded for KPI-JCI and Astec Mobile Screens.
"Advantage Design Group knew what they were doing right from the start. They planned the timeline, researched our products, organized, wrote and produced the content, and creatively designed and programmed the sessions" said Lisa Carson, Marketing Manager, KPI-JCI and Astec Mobile Screens. "With their talent and tenacity throughout the project, I saw my vision come to life!"
Online convenience, easy reference, concise start-up knowledge and support for dealers were just part of that vision. The topics covered include – crushing, screening, washing & classifying, material handling, track mount, services, parts and marketing – which provide a comprehensive overview for successful dealer training.
The Launch KPI-JCI and Astec Mobile Screen dealers are busy, and they need product information and training to be convenient and concise. If it's not done right . . . if it's not embraced, it's difficult to re-capture this audience's attention. Regional sales managers used flyers and emails provided by Advantage Design Group, that encourage usage, explain why and how to use the training, and offer incentives for participation. KPI-JCI and Astec Mobile Screens now has an approachable, professional training style that rivals that of comparable businesses in the industry.
The Results Now, KPI-JCI and Astec Mobile Screens make training on location much more productive. Dealers must pass the online training before attending on-site training, which means their knowledge level is right where it needs to be to take the next steps in person. No more expensive travel costs for novices who don't possess core product knowledge. Now there is time for more competitive comparisons, scenarios, product walk-throughs and other advanced learning that makes the on-site experience more effective. The bottom line is dealers who have the knowledge to sell better, sell more.
KPI-JCI and Astec Mobile Screens is poised to implement more advanced training online- providing more convenience, more cost-effectiveness, and more knowledge for their dealer network. This too was planned from the very beginning. A content management system(CMS) was custom programmed for KPI-JCI and Astec Mobile Screens so that staff can easily update content – visuals, text and videos – as needed.
"The staff training on the CMS provided by Advantage Design Group was straight-forward and easy to understand. Anyone in our office can use it with confidence and the updates always look great," said Lisa Carson, Marketing Manager, KPI-JCI and Astec Mobile Screens. "We are ready for sustainable growth!" KPI-JCI and Astec Mobile Screens relies on their dealers to succeed. With this exceptional training software in place, dealers have easy access to exactly the knowledge they need, when they need it. The result is an astounding mutual success.
About Advantage Design Group: Advantage Design Group is a digital marketing design and development firm with services that encompass customized online employee training software and college orientation software, video production, website design and development and mobile applications. Reach us at 800.657.1338 | AdvantageDesignGroup.com | info(at)advantagedesigngroup(dot)com