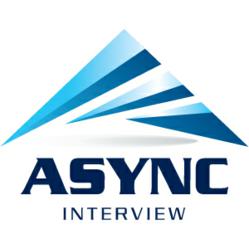 The topics and focus on the future of recruitment and interviewing aligns well with our company's video interviewing platform
Philadelphia, PA (PRWEB) April 10, 2013
Async Interview, online video interviewing provider, announced that it will be exhibiting at the 2013 ERE Recruiting Conference in San Diego, Cali from April 15-17.
"This year we took the dominant in-house recruiting conference and made it even stronger. We will have over 500 in-house recruiting leaders attending and our agenda features more in-house recruiting leaders speaking than ever before." Says Todd Raphael, the conference producer and Editor-in-chief of ERE.net, the preeminent source of information for recruiting professionals.
"Async Interview is excited to be returning to ERE's Recruiting Conference in San Diego, said Chris Young, Chief Executive Officer. "The topics and focus on the future of recruitment and interviewing aligns well with our company's video interviewing platform. We're thrilled to be able to share the successful results our clients are experiencing with our technology."
Async Interview will be demonstrating its Pre-Recorded & Live Video Interviewing tools at Booth #108. HR professionals and recruiting leaders interested in video interviewing but unable to attend the two-day conference should visit here for more information.
--------------
About Async Interview
Async Interview is a technology and service company meeting the needs of corporate and outsourced recruitment professionals through its video interviewing technology. Its suite of video interviewing tools are built to address a process bogged down in inefficiencies, rising costs and laborious procedures. Our cloud-based, real-time system gives recruiters, HR Professionals and hiring managers the ability to interview, evaluate, collaborate and hire the emerging workforce.
About ERE Recruiting Conference & Expo
ERE Recruiting Conference & Expo is the premier conference for in-house recruiting leaders. Twice a year, hundreds of in-house recruiting leaders gather to network and share information pertinent to those who run a department, manage a team, control the budget & have responsibility for talent acquisition in your organization.