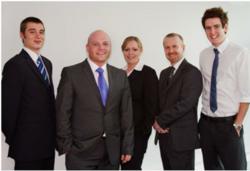 We focus on winning tenders, not just writing them, and that is why we believe we have so many long-standing successful clients.
London, UK (PRWEB) February 22, 2013
While most businesses typically suffer a slump in operations during the first quarter of a new year, 2013 is starting out really well for UK's top bid management and writing professionals from Executive Compass®. In January alone, the group secured six valuable contracts in the fields of construction, property maintenance, security, grounds maintenance and healthcare, and by the start of February, another successful submission for Security Services was added to the group's record of wins.
For the first quarter of 2012, Executive Compass® recorded an impressive number of wins with 17 major contracts secured in the months of March and April alone. This year, it's projected that the group will be enjoying the same level of success or surpassing its stellar performance in the first quarter of the previous year. Executive Compass® is definitely looking forward to a fruitful 2013 as it draws in new clients and welcomes back old ones who have been greatly satisfied with the superior quality of bid writing service the group has been providing them.
Neil Capstick, the managing director of Executive Compass®, reinforces their commitment to the highest level of service in the post by stating, "It never fails to excite us when clients get in touch to tell us that our services have won them a valuable contract, or caused them to progress to the next stage of the bidding process. We focus on winning tenders, not just writing them, and that is why we believe we have so many long-standing successful clients."
For construction, a contract was secured by Director Michael Lee for a national client who has been selected as a tier one supplier for an external wall insulation framework. Also, their North-East client successfully advanced to the tender stage following a winning pre-qualification questionnaire or PQQ written by Luke O'Neill for a housing refurbishment and new build contract. Works are valued at up to £2M.
Now, in the field of property maintenance, Executive Compass®'s south coast client secured an air conditioning and refrigeration maintenance contract for school buildings after a successful PQQ. The winning tender was likewise written by Luke O'Neill.
For GP services, managing director Neil Capstick wrote the PQQ and the client received an Invitation to Tender or ITT for a new contract to deliver GP services to the NHS in London. Aside from this, Neil Capstick also had another pre-qualification questionnaire success in security services for a long-standing security client who has been shortlisted to provide manned guarding services for a housing association in London.
Lastly, another client has passed the PQQ stage for a grounds maintenance contract in the South of England, and has sought Executive Compass once again to write the winning tender which was accomplished also by Neil Capstick.
For more information about the bid and tender writing services provided by Executive Compass, visit http://www.executivecompass.co.uk.