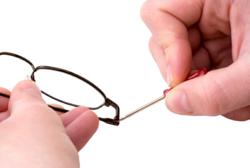 Let us help you get the most out of your eyewear
Syracuse, New York (PRWEB) January 16, 2013
Save some bucks and keep the eyeglass frames that have been around forever. Treasure Hut Jewelry located at 4461 East Genesee Street in Dewitt, NY can help. The company now specializes in many different kinds of eyeglass repair in Syracuse New York and can repair all brands of eyeglasses and sunglasses.
Let us help get the most out of old eyewear. From metal frame repair, to minor adjustments, Treasure Hut Jewelry brings many years of experience and passion to repairing eyewear, while customers wait. Over the years, eyeglasses repair has evolved, but Treasure Hut Jewelry has kept up with the latest techniques and technology.
The company houses a knowledgeable staff and the latest tools, to fix any eyeglass frames, name brand or otherwise. Modifications and eyeglass repair can be made quickly and easily, while waiting.
Treasure Hut Jewelry's expert services include metal frame repair, fixing broken screws in frames, temple and nose pad replacements and almost anything else.
If eyeglasses or sunglasses are broken or uncomfortable, bring them in and let the experts at Treasure Hut Jewelry take a look at them.
Free to free to read more on our website about the types of repair that are offered and contact us today if you have any questions.
Treasure Hut Jewelry
4461 E Genesee St.
Dewitt, New York 13214
(315) 445-0263