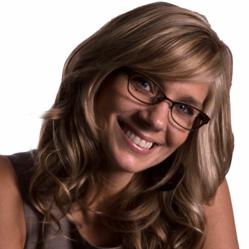 "Our new frames capture the spirit of sought-after vintage shapes without the weight of traditional acetates," said Amy Schneider, Co-founder and Vice President of Product Development.
Sharon, Pennsylvania (PRWEB) January 31, 2013
Eyes of Faith Optical is proud to release lightweight, stainless steel versions of popular, retro-chic frames with new Spring 2013 flat metal styles for its Eyes of Faith® collection. All four styles offer adjustable nosepads, ultra-comfortable TR-90 temple tip covers, and for the first time on Eyes of Faith® brand frames, the Wear & Share™ logo and inspirational scripture inside each temple. Frames are available for distribution immediately to independent eyecare professionals throughout the US, accompanied by a branded cleaning cloth and eco-friendly case that ships and stores flat.
"Our new frames capture the spirit of sought-after vintage shapes without the weight of traditional acetates," said Amy Schneider, Co-founder and Vice President of Product Development. "Stainless steel and TR-90 are great choices for patients who want to wear trends, but look for exceptionally lightweight materials, and we are thrilled to offer four different styles in multiple color selections for these Eyes of Faith fans."
Styles 1021 and 1022 are progressive-friendly frames with durable, scalloped TR-90 temples and the Eyes of Faith® logo printed in rich, matte metallics for a distinctive look. Both styles are available in three sleek satin-finish colors: Black Satin, Navy Satin, and Sepia Satin. Unisex style 1021 (size 52-18-140) captures the popular vintage brow bar trend in two-tone metal with Galatians 3:11 "The just shall live by faith" printed inside its temple. Style 1022 (size 51-16-140) is an elegant, round feminine shape, crowned with contrasting rivets and logo treatments that match the complementary interior colors. The inside temple of style 1022 features the Ephesians passage, "May Christ dwell in your hearts through faith" (3:17).
Styles 1023 and 1024 strike a bold silhouette with prominent metal fronts and unique acid wash colors in Denim Wash, Charcoal Wash, and Forest Wash. A custom-embossed cross creates a subtle expression of faith at each hinge, and a slight geometric temple cutout completes these standout models. Style 1023 (size 48-18-140) is a fresh, uplifting version of the cat eye trend for petite faces and fashionable personalities, featuring the Ephesians verse, "…one Lord, one faith, one baptism" (4:5). The softened square structure of unisex style 1024 (size 50-19-140) is progressive-friendly, and flatters both male and female profiles in a confident shape without the weight of a plastic frame. The inside temple reminds wearers to "Fight the good fight of faith…" from 1 Timothy 6:12.
"The addition of four new styles to the Eyes of Faith brand means that our optical partners can fit even more patients with Eyes of Faith frames, thus providing the opportunity for Wear & Share, our giveback program, to touch even more lives around the world," said Jim Schneider, Co-founder and President. "There truly is a frame, and a message of hope, fit for everyone within our family of brands."
Eyes of Faith Optical was founded in 2008 by husband and wife team Jim and Amy Schneider of West Middlesex, PA, as a way to contribute to the global mission of serving people in need and fill a void within the optical industry for eyewear specifically created with Christians in mind. The Eyes of Faith family of brands includes the Eyes of Faith® house brand, as well as licensed brands VeggieTales®, Not of This World®, and Women of Faith™ (launching Fall 2013). The company's vision for all of its collections is to encourage people to "wear" their eyewear and "share" their faith through the gift of sight—their program Wear & Share® transforms a portion of each eyewear purchase into a donated pair of prescription glasses, readers, or sunglasses that reach people in need via Sight Ministries optical missions around the world.
Eyes of Faith eyewear brands are distinguished among the optical industry for design elements and branding that provide people with opportunities to display and share their faith. The Eyes of Faith collection is made up of classic and contemporary prescription frames and sunglasses that feature the hope-inspired logo, which includes a subtle cross, or commonly-recognized and cherished symbols that tastefully communicate faith, such as the cross, stained glass, and ichthys fish.
The VeggieTales Eyewear for Children collection incorporates high-quality, durable components, like titanium memory metal and spring hinges, plus all the VeggieTales patterns and colors kids love. The message "God made you special!" is printed inside every temple, and some styles even feature a hidden Larry the Cucumber in their nose pads. The VeggieTales collection represents a positive message and makes wearing glasses fun.
Eyes of Faith also recently released a collection of eyewear for Not of This World® to rave reviews, with ophthalmic frames for teenagers and adults of all ages who love stand-out colors and trendsetting shapes. This line captures the brand's edgy style with multiple variations of the bold NOTW® logo and style names inspired by the scripture printed inside each temple.
To view all Eyes of Faith frames online, visit http://www.eofoptical.com/collection
For more information about Eyes of Faith Optical or the Eyes of Faith Foundation visit
eofoptical.com.
For more information about Sight Ministries, please visit sightministries.org.