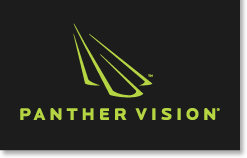 West Dundee, IL (PRWEB) June 06, 2013
Panther Vision has released the next video in their series of vignettes, and it is in conjunction with their first-ever online Father's Day promotion. The video is a short, lighthearted demonstration of some of the uses of Panther Vision's line of illuminated caps and safety glasses.
"Our products have a wide range of uses, both in hobbies and more professional settings," says Mike Carter, the General Manager of Panther Vision. "While our lighted caps and safety glasses can have many serious uses, we didn't see anything wrong with having some fun with the uses for our products during our videos. Keeping things lighthearted and funny was the whole point behind our vignette series."
The newest Panther Vision video is released to let fans of Panther Vision's illuminated head gear know about a promotion that the company has initiated for Father's Day: By watching the video, viewers can get a special promotional code which will entitle them to a discount off of their order. The newest Panther Vision video is available here.
For more information on Panther Vision and their line of lighted headwear and eyewear, visit http://www.panthervision.com.