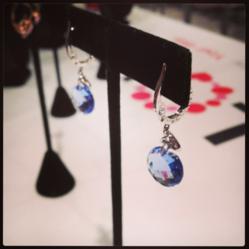 Our vision is to be a Fashion and Technology company in NJ where business excellence, innovation, fun and family is our key focus.
West Orange, NJ (PRWEB) February 27, 2013
HarpersLove is a new online jewelry shopping experience where the customer is the designer. Customers can design their jewelry via design builders that enable them to select various options for every aspect of the jewelry design. The options include selections such as metal type, stone selection, stone type (color, cut, size) and accessory selections (chains, earring backing). All products are custom created and it can take 3-5 weeks for delivery. Each order includes free shipping and 60 day risk free returns.
On April 25, 2013, HarpersLove will be presenting their business to investors, press and the general public at the NY Tech Day event. HarpersLove recently created a profile via Angel.co where startups and investors can learn about each other.
Michelle Mullman, CEO and Founder of HarpersLove LLC spoke recently about her company at the Image Forum hosted by Dr. Lorelle N. Michelson, M.D.,F.A.C.S. Michelle introduced the new custom jewelry business to a crowd of approximately 75 attendees and spoke about her vision of creating a Fashion and Technology business in Northern NJ (just outside of NYC). Her vision is to create a company where the culture is about business excellence, innovation, fun and family focus for employees of various backgrounds and years of experience. Furthermore, she spoke about creating a shopping experience to meet the needs of the modern consumer.
The custom jewelry business has a social presence via Facebook, Tumblr, MySpace and Twitter (@HarpersLove). Customers can also become members of the HarpersLove community by signing up for an account at Harperslove.com. Members can receive special discounts and news on products, events and website changes.
HarpersLove plans to launch new products, designs and creative ways to shop jewelry in 2013. For more information visit their website, harperslove.com and become a member or connect to their social sites. New members receive $50 towards their first order.
Michelle Mullman founded and launched HarpersLove in 2012. The website officially was released at the end of 2012 in time for the holiday season. Michelle Mullman, a business executive from the financial services industry has 13 years of professional experience including finance, operations and customer experience. The company was self funded by Ms Mullman and she is currently taking steps to secure additional funding to move the company to the next level. All products are hand made by artisans in the Greater New York region.