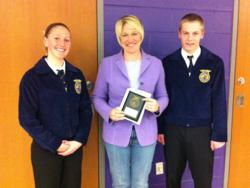 Palmyra, WI (PRWEB) May 13, 2013
The Palmyra-Eagle FFA chapter gave its coveted Star Sponsorship award to local whole food supplement manufacturer Standard Process Inc. during its 2012-13 recognition banquet on April 15. Christine Mason, Standard Process farm manager, accepted the award recognizing Standard Process' commitment to the FFA chapter's growth on behalf of the company.
"We chose Standard Process because of their support in trying to re-grow our program," said Victoria Greenwald, club treasurer, as she presented the award to Mason. "Our FFA chapter would not be as strong as it is today with the help of Standard Process."
While giving out the award, Greenwald specifically thanked Standard Process for letting the chapter hold a fundraiser on the Standard Process Farm at no cost. All proceeds raised were used to help the chapter's financial standing. She also credited Mason and other Standard Process farm employees for the time it took them to create a potential FFA alumni list and support group, which the FFA chapter then used to gain additional support.
Currently, the Palmyra-Eagle FFA has 50 students, up from just four students a few years ago. The chapter appreciates the partnerships created with Standard Process and many other local companies, organizations and individuals that have helped "kick start" the FFA program.
Standard Process, in its third generation of family ownership, grows crops for use in its whole food supplements on 450 acres of certified organic farmland. The company is dedicated to continuing its organic farming tradition, educating others about the benefits of organic farming, and helping organizations like the Palmyra-Eagle FFA grow and succeed.
###
About Standard Process Inc.
For more than 80 years, Standard Process, headquartered in Palmyra, Wis., has provided high-quality, nutritional whole food supplements through health care professionals. Standard Process offers more than 300 products through three product lines: Standard Process whole food supplements, Standard Process Veterinary Formulas and MediHerb herbal supplements. The products are available only through health care professionals.
Standard Process is involved in every step of production. The company grows crops on company-owned, organically certified farmland, utilizes state-of-the-art manufacturing processes, and employs the highest quality control standards. Standard Process strictly adheres to the Food and Drug Administration's good manufacturing practice requirements. Through these measures, Standard Process can ensure that its products are of the utmost quality and potency. Standard Process was named a Top 100 Workplace in Southeastern Wisconsin a number of times and is a member of the Inc. 5000 Honor Roll.
For additional information about Standard Process, visit standardprocess.com.