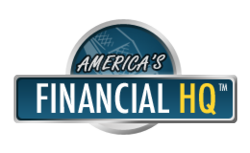 Our mission is to educate our listeners and to help them plan first, and invest second. Mike Walters - Host, America's Financial Headquarters
Grand Rapids, MI (PRWEB) January 18, 2013
The nationally syndicated, weekly financial talk radio program, America's Financial Headquarters (AFHQ), has expanded with the addition of four new stations to its financial news and information family. AFHQ proudly welcomes:
FM 107.1 & AM 1240 The Talk Station
Jacksonville, New Bern & Morehead City, NC
Air time: Sundays at 11 a.m. ET
Debuted Sunday, January 13th
News Talk 1150 & 97.5 KRMS
Osage Beach, MO
Air time: Saturdays at 8 a.m. CT
Debuted Saturday, January 5th
AFHQ can now be heard on the radio at Marine Corps base Camp Lejeune & throughout the Outer Banks in North Carolina, and throughout the Lake of the Ozarks region in Missouri. The program now airs on 16 affiliate radio stations across America.
America's Financial Headquarters is a nationally syndicated financial talk show committed to the belief that planning comes first, and investing comes second. The show is hosted by executives who run an investment broker/dealer, money management firm, insurance brokerage, and technology firm. Your source for all things financial, the show and its website (financialhq.com) deliver "meaningfully relevant" information to consumers in or nearing retirement.
In 2011, the oldest members of the Baby Boom generation celebrated their 65th birthday. With each passing day for the next two decades, roughly 10,000 Americans will retire. Will they retire more gracefully than their parents did? What do the Boomers need to know about managing their finances before and during retirement? How should they invest? What about life insurance? Long Term Care insurance? Annuities? These are the questions tackled on America's Financial Headquarters Show, where planning comes first, and investing comes second.