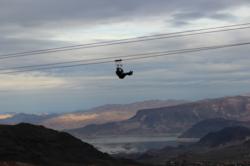 "Our day was amazing!! Everything went perfectly, your staff was gracious, kind, professional and hilarious!" - Denyse H.
Boulder City, NV (PRWEB) June 24, 2013
Flightlinez Bootleg Canyon is only 30 minutes outside of Las Vegas. Guests discover breathtaking views of Las Vegas, Lake Mead, the Eldorado Valley and Historic Boulder City, while the Eco-tourism guides take guests on an interpretive journey over the desert ecosystem. Guest enjoy four separate runs carrying them over 1.5 miles of the Mojave Desert floor at speeds up to 60 mph. The shortest run comes in at a quarter mile, while the longest zipline guests experience is just shy of half a mile.
Flightlinez BC has been featured on the Travel Channel with Bert the Conqueror, Fantasy Factory and MTV among others. No one wants to miss this amazing experience.
Constantly rated number 1 on Yelp, it's not only the ziplines that leave guests with memories. The staff at this operation are top notch and safety conscience.
In 2011 Flightlinez started a Frequent Flightliner Program. To date there are over 1800 members, three of which have taken tours over seven times in the last two years.
This past April, Flightlinez Bootleg Canyon hosted the Second Annual Dirty Vert charity event partnering with Desert Dash Running Club, the oldest running club in Las Vegas. Participants will run for time, up the Red Mountain, and enjoy a nice zipline ride down to celebrate. Portions of the proceeds are being donated to the Boulder City Senior High School Success Fund; one of many organizations Flightlinez partners with and donates to. Flightlinez Bootleg Canyon has donated complimentary tours to over 175 charities nationwide and has held charity events on site for the last three years.
Ride the Line and Experience Flightlinez Bootleg Canyon
Additional Information:
About Flightlinez:
Flightlinez Bootleg Canyon opened to the public in August 2008. A portion of each ticket goes back to assist with keeping Bootleg Canyon Park open to the public and preserve it for everyone to enjoy. To date Flightlinez has given back over $500,000.00 to Boulder City to assist in these efforts.
For more information on Flightlinez Bootleg Canyon please visit http://www.flightlinezbootleg.com
or call 702-664.4256.
For media information, please contact:
Brina Marcus
Flightlinez
702.664.4256
brina(at)flightlinez(dot)com