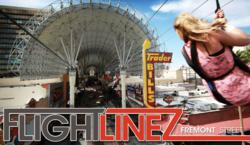 Las Vegas, NV (PRWEB) June 11, 2013
Flightlinez and the Fremont Street Experience invite supporters to zipline down Fremont Street and assist in raising funds in an effort to support Nevada Epilepsy.
Volunteers from Nevada Epilepsy will be on site to provide more information about the organization, their upcoming activities and events and they will be selling cookies. Entertainment will be hosted by local dance, drill, drum and singing groups from around the area will be right in front of the Flightlinez Office near the take off tower.
Who:
Flightlinez Las Vegas zipline attraction, Fremont Street Experience, Nevada Epilepsy
What:
Flightlinez and the Fremont Street Experience will donate all net proceeds from zipline rides on Wednesday June 12, 2013 from noon to midnight to Nevada Epilepsy.
Nevada Epilepsy
Since 2004, Nevada Epilepsy has been dedicated to the welfare of people with epilepsy. With the continued support of Sunrise Hospital and Nevada Neurosciences Institute, they are able to meet our goals. The goals are to prevent and cure seizure disorders, promote public awareness, and the promotion of independence and optimal quality of life for people who have these disorders.
Flightlinez is committed to serving the Las Vegas community by hosting charitable fundraisers throughout the year. The monthly events have been a great way to put the "fun" back in fundraising for so many charities during tough economic years. In late 2010, Flightlinez and Fremont Street Experience began hosting these monthly events and have donated more than $275,000 to various charities.
Location:
425 Fremont Street, Suite 160
Las Vegas, NV 89101
Ticket Office is located next to Walgreens off of 4th Street.
Cost:
Noon until 6 p.m. Flightlinez Zipline rides are $15
6 p.m. until midnight Flightlinez Zipline rides are $20
Additional Information:
About Flightlinez:
Flightlinez owns and operates the zipline ride attraction located at the Fremont Street Experience and continuously puts forth fundraising efforts to support charities and worthwhile causes in Las Vegas.
In October 2010, Flightlinez Las Vegas opened for the first time to host the 1st Annual Broom Races – Flights for Cancer. Now going on 3 years, Flightlinez Las Vegas has become an attraction everyone visits when they are in town.
About Nevada Epilepsy:
Nevada Epilepsy has developed public education programs that foster community awareness to improve the health care and community support available to all persons affected by epilepsy. Epilepsy is a generic term for a variety of seizure disorders characterized by chronic recurring seizures. A seizure is a disturbance in the electrical activity of the brain. One in every ten Americans has had, or will have at least one seizure at some time in their lives, and over 3 million Americans are diagnosed with Epilepsy. Services provided in the community by the Nevada Epilepsy Group include: providing information and education on living successfully with epilepsy, conducting yearly educational conferences for the public, training school nurses and other school professionals in seizure recognition, treatment, and response, and holding monthly support group meeting.
For more information on charity events, please visit http://flightlinezfremont.com/charity or call 702-410-7999.
For media information or If you plan on sending a camera, please contact Brina Marcus as soon as possible for security clearance.
Brina Marcus
Flightlinez
702-664-4256
brina(at)flightlinez(dot)com