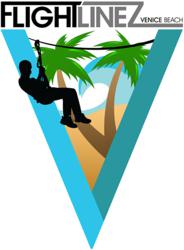 Los Angeles, CA (PRWEB) June 30, 2013
After two years of passion filled conversations; Venice Beach is putting up a zipline. In 2011 Flightlinez along with some local artists in the Venice Beach community approached the city with an idea.
Summer 2013 the idea will come to life. Local Artists will have their work displayed on and around the take off and landing towers of the zipline. Soaring Heights will have classes Monday through Thursday. Classes will involve dance, hoop work and various forms of performance. As the summer comes to end these wonderful participants will have the opportunity to show the community what they've learned as they perform August 10th for everyone to enjoy!
Equipment started to arrive on Friday and will continue throughout the first week of July. Flightlinez is scheduled to have inspections before the weekend begins and looking to open to the public the second week of July!
Hours:
Daily 11am - sunset
Cost:
$20 per rider
$18 for California Local Discount with Valid California ID
$18 for Public Transit Users with valid day of transit pass
Other Info:
Valet for Bicycles, skateboards and roller skates/blades
Weight Restrictions: 60-250lbs
Free Shuttle services are provided from Public Lots located around Marina Del Rey on Weekends and Holidays. Flightlinez recommends using Lots 7, 8 or 9. $2.00 off for utilizing public transportation.
Office Located:
South of Windward on the Boardwalk. Ticketing office is located across from the landing deck.
1601 Ocean Front Walk
Los Angeles, CA 90291
About Flightlinez:
Flightlinez is committed to serving the community. Both locations in the Las Vegas area, Flightlinez Las Vegas on The Fremont Street Experience and Flightlinez Bootleg Canyon hold charities event to support both local and national causes in an effort to both increase awareness and give the community a way to really enjoy giving back.
Flightlinez Venice Beach was established as a temporary attraction to raise money to assist in cleaning up the Venice Beach area. A portion of the ride proceeds will go back to the city to assist in these efforts. Flightlinez has set up a children's program with Soaring Heights allowing kids to experience different forms of art, dance, performance, and natural leader skills they can use throughout life.
If you plan on sending a camera, please contact Brina Marcus as soon as possible for security clearance
brina(at)flightlinez(dot)com or 702-664-4256.
For media information, please contact:
Brina Marcus
Flightlinez
702.664.4256
brina(at)flightlinez(dot)com