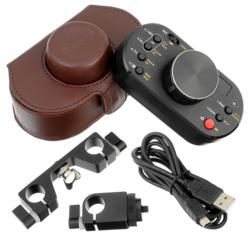 Waukegan, IL (PRWEB) February 20, 2013
Fotodiox (http://www.fotodioxpro.com), a leading lens adapter and accessories manufacturer and distributor, today announces the availability of the Aputure™ V-Control for Canon DSLR cameras, a handheld USB host device designed to operate with popular Canon cameras that use Canon's USB protocol. The latest in a growing line of blockbuster innovations for DSLR filmmakers and photographers, Aputure V-Control offers comprehensive image and follow-focus control over both photo and video modes – all in one device.
Perfect for dramatic rack focus shots, and for correcting focus when the camera is out of reach on a dolly or a crane, V-Control is the only device of its kind that enables photographers to easily switch between still and video modes, offering full hands-on remote control of the camera's aperture, shutter speed, ISO and exposure compensation. The V-Control mounts securely onto a camera rig rail system using the included single rail or dual rail aluminum mounts. Alternately, the system will work with any other mounting system with a standard tripod ¼-20" thread. The USB control cable connects in either of two ports on the V-Control, making it easy to orient and mount the V-Control with unprecedented flexibility.
"Maintaining control over image and focus is crucial when the camera is out of reach, or when camera vibration is a concern," said Drew Strickland, Vice President of Fotodiox. "V-Control provides unlimited operational flexibility and mounting versatility for DSLR still and video photographers, all at about half the price of other USB camera controllers."
The device's seven versatile buttons and its center control dial provide full command of exposure, live-view and focus settings, unlocking creative potential and added power and precision for photographers and filmmakers. The V-Control can memorize up to four focus points and change between these focus presets at the touch of a button, providing a simple, yet powerful rack-focus system.
"One of the realities of a video or photo shoot is that the best place for your camera isn't always the best place for the photographer," said Bohuš Blahut, a veteran producer and director and owner of TV OPS. "V-Control gives me comprehensive and detailed remote control of the camera, and V-control can mount practically anywhere. My other remotes do little more than turn the camera on and off which isn't nearly enough, while V-Control gives me full hands-on control of my DSLR without actually having my hands on the camera."
Full features for the V-Control include:

First photo and video multi-function USB follow-focus controller
Advanced control of multiple functions including: Shutter, Aperture, ISO, Exposure Compensation & Live-View Magnification
Toggle Live-View on and off
Four user-preset focus points for automatic rack-focus effects
Compatible with many mounting accessories (including single and dual rail rig mounts)
Two USB ports for ergonomic flexibility
More than 40 hours use on two AA batteries
Current Canon models supported include: Canon EOS 1D Mark IV, 5D Mark III, 5D Mark II, 7D, 60D, 600D/T3i/Kiss X5, 550D/T2i/Kiss X4, 500D/T1i/Kiss X3, 1100D/T3/Kiss X50, with more models expected in the future.
The Aputure V-Control is distributed exclusively in the U.S. by Fotodiox, Inc. The V-Controller is priced at $179.95 and is available for order now at http://www.fotodioxpro.com and other online retailers including Amazon.com.
About Fotodiox
Fotodiox is a leading manufacturer and distributor of professional photography and videography accessories at wholesale prices. Serving the photo and video market since 2004, Fotodiox carries a full line of professional photography accessories and lighting equipment, including: flash strobes and wedding photography kits, daylight fluorescent lighting, tungsten lighting and video lighting kits. Fotodiox's first product in its new flagship "Wonder" line, WonderPana, is a unique lens hood filter system designed to achieve balanced lighting. Fotodiox continues to be the leading manufacturer of lens mount adapters, large format adapters for 35mm and medium format digital backs.
###