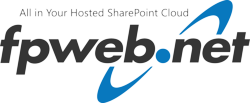 At Fpweb.net, we are constantly working to increase the value of your SharePoint environment.
St. Louis, MO (PRWEB) April 04, 2013
On top of previous promotions that have included free SharePoint migrations and 10% savings on hosted environments, Fpweb.net is proud to announce a limited time offer that takes the pressure off switching to a hosted environment. With Fpweb.net's 30-Day Risk-Free Trial, customers are allowed to cancel their contract after a month if it isn't ideal for their business and get their money back.
This risk-free opportunity lets customers move to a new, fully dedicated environment and see what managed SharePoint can do for their business. During the month-long trial, companies can test the connectivity speed from Fpweb.net's data centers to their environment and free up their IT resources to focus on the pressing business initiatives that need their full attention. Fpweb.net's 30-Day Risk-Free Trial is a cost-effective way to deploy a SharePoint infrastructure.
"It is also a great opportunity for us to show off our expert SharePoint support," said CEO and Founder, Rob LaMear IV. "This promotion will show businesses firsthand how they can benefit from outsourcing their SharePoint to the experts. From managed support that's available 24/7/365 to harnessing the full functionality of the private cloud, our hosted SharePoint solutions add significant value to a company's bottom line. And if it doesn't work out, we'll return your money!"
In keeping with their month-to-month promotions in 2013, Fpweb.net is offering risk-free trials for a limited time only so take advantage of this opportunity while it lasts.
To learn more about Fpweb.net's 30-Day Risk-Free Trials, please call 866-780-4678 or visit http://www.fpweb.net/sharepoint-hosting/30-day-sharepoint-hosting-free-trial/.
About Fpweb.net
Fpweb.net is the premier SharePoint hosting provider - matching Expert Support & Customer Care with nearly two decades of SharePoint Hosting experience. Fpweb.net's SharePoint Cloud helps you get to market faster and increase operational gains which lead to big cost savings for your business. Leave the backups, monitoring, server patching and support to our SharePoint experts so you're free to focus on the next big thing for your business. For more information, please visit http://www.fpweb.net.