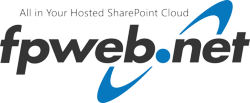 Free daily backups are now available with every new SharePoint hosting contract!
St. Louis, Mo (PRWEB) May 02, 2013
Fpweb.net, a SharePoint-only hosting provider, proudly announced their latest promotion that, for a limited time only, provides every new SharePoint Hosting contract with free daily backups for the duration of their term.
This May, it's easy to protect your SharePoint environment from the unpredictable events that can sideline a business as they struggle to recover. How it works: Every week, a full backup of the environment is produced and every night, an incremental backup of the environment is created, backing up all of the recent changes since the last backup. Available for Enterprise plans and above signing a one-year term or longer.
"80% of businesses that don't properly backup their environment and suffer a significant data loss will go out of business within the month," said Fpweb.net CEO, Rob LaMear. "We wanted to create a promotion that draws attention to the importance of daily backups and then hands them over for free with each new contract. It's just another way we can bring value to your hosted SharePoint environment."
Fpweb.net recently announced their latest data center opening in the Kansas City area where offsite recovery will also be available. Offsite recovery moves critical data to a second location and serves as further protection against any business disruption from lost data.
To learn more about Fpweb.net's free daily backups promotion, please visit http://www.fpweb.net/sharepoint-hosting/free-daily-backups/
About Fpweb.net
Fpweb.net is the premier SharePoint hosting provider - matching Expert Support & Customer Care with nearly two decades of SharePoint Hosting experience. Fpweb.net's SharePoint Cloud helps you get to market faster and increase operational gains which lead to big cost savings for your business. Leave the backups, monitoring, server patching and support to our SharePoint experts so you're free to focus on the next big thing for your business. For more information, please visit http://www.fpweb.net.