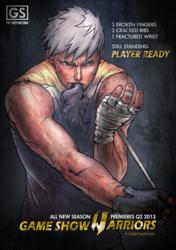 Singapore (PRWEB) April 23, 2013
Inzen Studio is extremely happy to announce their latest release, Game Show Warriors.
A series of web-comics and games, Game Show Warriors takes place in a world where war is now a thing of the past and major conflicts are waged through adrenaline-inducing Action Game Shows, filmed live in intense urban arenas.
A Game Show Warrior is the perfect combination of soldier, tv celebrity and athlete, driven to triumph over the harshest challenges, to defend the honor of sponsors and to win the hearts of millions.
Amazing Studly Strikes, the first game of this series, is a fast-paced action smash fest. Players will take on the role of G-man Studly, a warrior on a mission to regain his family's former glory. He will attempt to make the treacherous climb to the top of Megastructure One, a hundred and twenty storey skyscraper, while fending off dozens of men in ape suits, elephants, giant mecha gorillas and big nasty tentacles!
The action doesn't stop there! In Game Show Warriors: Drawn to Action, a web-comic, players will be able to follow the adventures of G-man Studly and his teammates, as they take on rival factions and the rest of the game show world.
The game and the web-comic are packed into the Amazing Studly Strikes (Universal) app, which debuts today, April 23rd, on the App Store (iOS).. for free!
Show the Inzen team some love and stay tuned to updates on Facebook at fb.me/GameShowWarriors
=====
About Inzen Studio
5 game developers met at the Singapore-MIT Gambit Game Lab. They'd worked on a couple of kick-ass games before, ranging from a cult-hit fighting game that was almost violence perfected, to a popular vertical shooter involving some seriously enraged dots which you controlled by literally sketching out awesome attack formations. Though they had a lot of fun at the time, they wanted to create more immersive play experiences.. especially ones involving Giant Mecha Gorillas! Enter Inzen Studio.
Starting in Oct 2012, Inzen Studio is now a scrappy band of 6 fired-up developers and artists across Singapore, Uruguay and China.
Inzen draws inspiration from Asian entertainment throughout the years. Being big fans of manga, anime and the games that were released in the 90s (a time we felt was the age of innovation in games). We cheered when Shōhoku faced off against Sannoh, we laughed when Ultraman forgot how to activate his powers and we felt awesome when we punched our Sega Saturn controllers like Segata Sanshiro. (We also LOLed when monsters ran all over the screen in one episode of Takeshi's Castle but that's a whole other thing.)