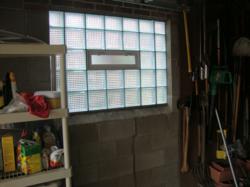 "Glass block windows in the garage are a win-win-win situation," explains Mike Foti, President of Innovate Building Solutions. "The glass block provide light, privacy, increased security & lower energy costs."
Columbus, OH (PRWEB) April 29, 2013
Garages are gearing up to become the latest "multipurpose area" in American homes. According to the U. S. Census, 1.3 million homes are being converted to living space each year. In addition, nearly one in five new homes in the U.S. now features a three-car garage, adding more potential space for activities beyond just parking cars. Installing beautiful glass block windows in the garage affords a homeowner upgraded security, light transmission, and privacy while still allowing a fashionable appearance to an area many people find dowdy and unappealing. Homeowners are looking for cost effective spaces such as the garage for use as "flex" areas. In addition to parking cars, people are now repurposing the space for hobby and craft work, handyman workshops, children's play rooms, ping pong and pool tables, poker rooms and exercise rooms.
"Glass block windows in the garage are a win-win-win situation," explains Mike Foti, President and CEO of Innovate Building Solutions. "First, the glass block can be simple and clear for maximum light, or can provide privacy while still resembling a beautiful fashion piece with the use of colored glass blocks and varying shapes. Second, adding glass blocks to this area beefs up security for a space in the house that is vulnerable to break-ins. Finally, upgrading this space means more options are available to a homeowner, from renovating the garage to a daily living space to simply allowing part of it to be a functional hobby center or a craft area. In my opinion, the garage can become a new version of the "finished basement" that so many Americans desire."
Additional benefits of glass block garage windows include increased privacy, if that is important to the homeowner. Certain patterns and colors make it difficult (or impossible with some selections) to see what's inside. If a garage remodeling project is anticipated, a heating or cooling system may be in the plans, and glass blocks are a much better insulator than an existing single pane window.
If you wish to have a garage that is safer, more functional and fashionable, contact Mike Foti at Innovate Building Solutions, a nationwide supplier of glass block windows, wall and shower systems and other home remodeling products. Divisions of Innovate Building Solutions are Super Service Award winners through Angie's List, and have won the Consumer's Choice Award. The company is accredited by the Better Business Bureau. Mike Foti is also a Certified Aging in Place Specialist (CAPS) though the National Association of Homebuilders. He can be reached at 216-310-1074, or via email at mikef(at)innovatebuildingsolutions(dot)com.