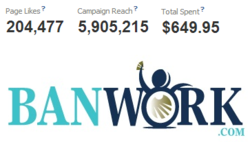 BanWork's Facebook Page has screenshots showing over 500,000 likes generated with ads and sponsored stories in just two months.
Sarasota, Florida (PRWEB) June 29, 2013
Jerry Banfield started BanWork.com in 2012 with the intent to create an online work platform similar to oDesk or Elance. In trying to promote his website, he created a Facebook page and struggled to get new Facebook fans for under a $1 each. Frustrated with the cost, he resorted to buying Facebook fans.
After selecting a package for 10,000 "US guaranteed real likes" for $360 from one of the many websites offering to sell Facebook likes, he quickly saw he had been another victim of a scam. PayPal was kind enough to give him his money back after he filed a claim against the seller and he was determined to find a similar website that was not a scam.
Two weeks later, after hours Googling every term related to Facebook fans, Jerry found another website offering what appeared to be legitimate fans this time. They had higher prices and an active blog showing they knew something about what they did. Doubling down on his previous investment, Jerry spent nearly a thousand dollars to get not only "8,000 guaranteed US fans," but those that were genuinely interested in his page targeted on keywords and interests. When the fans started coming in three weeks later, it was obvious that this too was a scam and Jerry was lucky enough to have PayPal bail him out again.
Since no other website was offering legitimate Facebook fans, Jerry researched established social media marketing companies. Not surprisingly, they required thousands of dollars per month in ad spend to help and never guaranteed any results. Given this huge hole in supply and demand, Jerry saw the opportunity to create the service he needed originally and executed a pivot to make this the main function of BanWork.com. Within three months, he had packages setup in a similar format to the ones that had ripped him off with the promise his followers would be real people that saw Facebook ads.
After twelve months of market research, BanWork is ready to share their Facebook advertising services with the world. During the last year, Facebook page admins in over fifteen countries and nearly every US state have already used BanWork to get an average of ten times better results with Facebook ads than they would have got doing it themselves.
Starting in July 2013, BanWork will be releasing new subscription levels to match any advertiser's needs. Instead of paying Facebook $10/day to get 10 or 20 likes, BanWork creates a Facebook ad campaign that generates 100 to 200 likes each day. To confirm their delivery method, Facebook page owners are told to check their Facebook page insights. In the "source" section, the fans show as originating from sponsored stories and ads. To show what is possible, their Facebook page has screenshots showing over 500,000 likes generated with ads and sponsored stories in just two months.