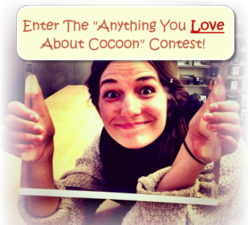 (PRWEB) May 17, 2013
Virtual World Computing VWC, that was founded in 2008, is pleased to announce their latest contest -- the "Anything You Love About Cocoon" contest. From May 19-31, participants may submit an entry to VWC from the contest entry tab on their official Facebook page. The Grand Prize Winner will receive a iPad Mini (Apple is not a participant in or sponsor of this promotion), based on their contribution on the entry form about "why they love Cocoon." All other contest prizes will be selected in a random drawing.
The official contest rules are posted at the Cocoon website. The grand prize winner will be selected on June 3 and will be based on the participant's written entry about "what they love about Cocoon". All other prizes will be selected in a random drawing on June 1.
The remaining 16 prizes include:
(a) One $100.00 iTunes Music Card (retail value $100.00); (b) One $100.00 Amazon.com Gift Card (retail value $100.00); (c) One $75.00 Amazon.com Gift Card (retail value $75.00); (d) Three $50.00 Amazon Gift Cards (retail value $50.00 each for a total $150.00); (e) Ten 1 year subscriptions to either PC World or Mac World (retail value $19.97 each for a total $199.70). The total value of this prize package is $975.00. Only one prize per winner.
The winners will be notified by email within three business days following the close of this contest. All winning participant prizes will be dispensed between June 6-12. The odds of winning the Grand Prize depend upon the written entry. Whether they love the concept of online security and privacy, love a particular Cocoon feature, love to stream their favorite US content when traveling abroad, or they just love it because it makes them feel soft, fuzzy, and Cocooned – there is only one winner for this coveted grand prize. The odds of winning the remaining 16 prizes depend upon the number of eligible entries received for this drawing.
About Cocoon:
Cocoon is a free, all-in-one plugin developed by Virtual World Computing of Santa Barbara, California. In addition to its iOS app called GetCocoon, Cocoon offers versions for Firefox, Internet Explorer, and Google Chrome (Mac). Cocoon's core business model is built on trust, and its mission is to put users in control of their Internet experience by ensuring that their computer and personal information are secure and protected from malicious attacks, unwanted spam, and invasions of privacy.