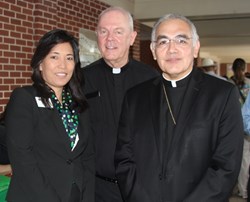 Girl Scouts of Central Texas is making an active effort to bring its quality and relevant programs to the Texas Latino community by increasing awareness through joint events such as Outing for Scouting
Austin, TX (PRWEB) October 15, 2013
Despite the copious rain and flooding from the previous night's downpour, Girl Scouts of Central Texas (GSCTX) along with the cooperation of Sacred Heart Parish hosted "Outing for Scouting" on Sunday, October 13th. This recruitment event focused on Austin's Latino community and its main goal was to increase awareness about Girl Scouts and what they do.
The Troop from the church, which has grown to over 80 girls in just six months, was present during Sunday Mass and were recognized by Bishop Joe Vásquez. His Most Reverend commended Girl Scouts of Central Texas and spoke of all of the different ways girl scouting benefits girls, their families and the communities they live in. After Mass, the troop, troop leaders, 150+ volunteers & council members, and congregation members enjoyed the festival, which featured arts and crafts, technology, music, books and program booths. While new girls learned about scouting, current Girl Scouts earned an "Outing for Scouting" badge by visiting each booth.
Along with GSCTX, Austin Fire Department and APD's forensic unit experts were in attendance. Their booths educated the girls about several law and safety matters such as proper CPR techniques and fingerprinting. The Boy Scouts of America helped out by providing food and snacks for purchase.
GSCTX CEO, Lynelle McKay, COO, Candice Towe, and CFO, Jerry Spataro were in attendance during Mass and were able to meet and chat with Bishop Vasquez and Father Mark Hamlet about matters relevant to the Latino congregation. "Girl Scouts of Central Texas is making an active effort to bring its quality and relevant programs to the Central Texas Latino community by increasing awareness through joint events such as Outing for Scouting," said CEO, Lynelle McKay. She continued, "We consider partnerships--like the one we hold with Sacred Heart Parish—increasingly valuable because as community-based organizations, we pursue the same goals: to enrich the lives of girls and their families, through meaningful experiences that will foster a strong sense of self-confidence and increase the rate of success in all their life pursuits."
Girl Scouts of Central Texas and Sacred Heart Parish look forward to a long tradition of scouting together.
About the Girl Scouts of Central Texas:
Girl Scouts of Central Texas serves more than 19,000 girls in grades K-12 and over 13,000 adult volunteers in 46 Central Texas counties. Headquartered in Austin, Girl Scouts of Central Texas has program centers in Brownwood, Bryan, Killeen, San Angelo, Stephenville, Temple and Waco. Through outcomes-based leadership opportunities, girls discover their own potential, connect with others and take action to improve their communities. Girl Scouting offers an array of fun, educational programs focusing on fine arts, science and technology, math, the environment, community service, leadership, and life skills. Girl Scouts lead with courage, confidence and character, to make the world a better place. For more information, visit http://www.gsctx.org.