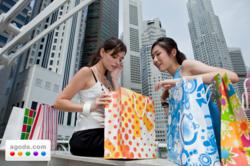 Shopaholics unite! The upcoming Great Singapore Sale is one of Asia's biggest retail events.
Singapore (PRWEB) May 22, 2013
Agoda.com, Asia's leading hotel booking site and part of Nasdaq-listed Priceline Group (Nasdaq:PCLN), has announced a variety of hotel deals in the lead-up to the Great Singapore Sale, one of the island nation's biggest yearly events.
Celebrating its 20th year and taking place from 31 May to 28 July, the sale – often abbreviated simply as GSS – is an annual event centered on the one thing that Singapore is known best for – shopping. Sales, specials and super saver deals by some of the country's best-known retail names are spread out across the city offering shoppers a great way to stock up on their favorite brands while seeing some of the city's most dynamic neighborhoods.
Of course, most people familiar with Singapore have heard of Orchard Road, the central shopping district of the city and one of the most iconic commercial destinations in Asia. With endless stores, huge shopping malls and below- and above-ground connections linking them all together, the biggest crowds will undoubtedly be here seeking out deals. This includes the massive ION Orchard mall and the Mandarin Gallery.
Other areas heaving with shoppers will be favorite commercial neighborhoods such as Chinatown, Kampong Glam, Holland Village or Little India, where shoppers can find unique objects, novelties and handcrafted items that reflect the unique personality of the neighborhood they're sold in. Many of these neighborhoods also offer eclectic restaurants, live music and funky coffee shops to help shoppers recharge during their long day.
Shoppers can also check out the inaugural Singapore International Jewelry Expo 2013 at the Marina Bay Sands Expo & Convention Center from 4 to 7 July, which will showcase displays from leading designers, brands and gemstone suppliers from around the world across 8,000 square meters of floor space.
The best part of the festival is that in order to accommodate the crowds of deal seekers, many of the stores and malls will be staying open late to maximize the shopping opportunities. No more rushing to get everything done before the stores close!
To top it all off, the grand prize of the event is the MasterCard Biggest Spender Reward, in which the biggest spender of the festival can win S$20,000. Details are available on the GSS website, but if that's not an incentive to stock up on new supplies, nothing is! Check out the festival's official website here: http://www.greatsingaporesale.com.sg
Don't miss this great opportunity to see some of Singapore's best sights, and to take advantage of some of the lowest prices the retail hub of Asia can offer. Browse the fantastic hotel deals below and get a comfortable pair of shoes ready for action!
To connect with Agoda.com for special deals on hotels worldwide, please visit our website at http://www.agoda.com. Like us on Facebook at http://www.facebook.com/agoda or follow us on Google+ at http://plus.google.com/+agoda
The Sentosa Resort and Spa 5*
Early bird special! Book 21 days in advance and enjoy 15% off. Expires December 31, 2013.
Hotel Re Pearl's Hill 4*
Limited time rate – only US$ 104! Expires June 30, 2013
Resorts World Sentosa - Equarius Hotel 5*
Flash Deal – enjoy 60% off! Expires December 31, 2013.
Fairmont Singapore 5*
Early bird special – book 2 days in advance and enjoy 20% off! Expires December 31, 2013.
Orchard Hotel Singapore 5*
Limited time rate - 25% off! Expires July 31, 2013.
Royal Plaza on Scotts 5*
Stay a minimum of 3 nights and enjoy 20% off! Expires July 31, 2013.
Grand Park Orchard 5*
Early bird special! Book 14 days in advance and enjoy 20% off! Expires December 31, 2013.
Rendezvous Grand Hotel Singapore 4*
Limited time rate - 30% off! Expires December 31, 2013.