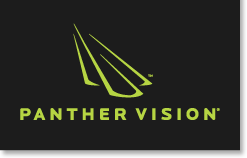 Chicago, IL (PRWEB) June 13, 2013
Panther Vision®, a leading manufacturer of hands-free LED lighted headwear and eyewear, announces a partnership program to allow bloggers, reviewers and other websites to refer people to their products, and earn a commission.
The Panther Vision affiliate program's goal is to allow people who have used their products to share that experience with friends, family and followers, and to earn a commission in the process. "Panther Vision's LED Lighted hats, LED Lighted Safety Glasses and LED lighted reading glasses allow people to add more light to their activities while keeping their hands free. The affiliate program will allow more people to spread the word about the unique, innovative and highly functional available at http://www.panthervision.com." says Mike Carter, Panther Vision's General Manager.
The Panther Vision affiliate program is designed to be easy for the affiliates, with pre-designed banners that they can install on their websites or insert into their emails.
"From our ultra bright LIGHTPECS® safety glasses and reading glasses, to fashionable POWERCAPS® and Headlamp Hats, Panther Vision's product line has a wide appeal and we are looking forward to being able to share our products with an even wider audience," said Carter
For more information on Panther Vision's affiliate partnership program, visit: http://pvision.myomnistar.com/users/main.php
For Sales and Marketing inquiries, please contact Mike Carter at 847-783-5900 ext.106 or mikecarter(at)panthervision(dot)com