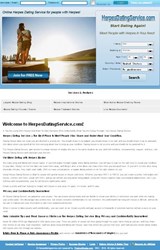 HerpesDatingService.com
(PRWEB) November 19, 2013
According to the Centers for Disease Control and Prevention, around one out of every five people in the United States has genital herpes. This sexually transmitted disease and others have become a widespread epidemic. While herpes has its physical drawbacks, it also causes a lot of emotional and psychological trauma to those who contract it. Herpresdatingservice.com, and offshoot of Successful Sating, has come to the forefront of this issue and is doing all it can to help those afflicted by the STD to live normal and fulfilling lives by finding a companion. The website has reached the 100,000 registered user mark this month, which shows how popular it has become.
Successful Match thinks that victims of herpes or other STD's no longer have to live lonely and discontent lives because HerpesDatingService brings together people from all across the world onto one platform, where people with STDs scan interact, become friends, and fall in love. Those affected by sexually transmitted diseases don't have to spend awkward moments with their partner describing that they are infected, and worse, they don't have to spend a lifetime of guilt with a partner who does not understand their condition, situation, or feelings.
The Marketing Manager, Jeffery Z, states, "Contracting herpes or any other STD doesn't mean that you have to estrange yourself and place yourself in solitude. At herpresdatingservice.com, we know that people with herpes and other STDs have the right to be in a relationship just as much as the next person, and they should never have to think twice about it. So we created an easy-to-access platform for people across the world to get together and find a suitable partner, without having to "break the ice" about having an STD. It's understood that if you're on our website, you had or have an STD. This puts people in a very comfortable and non-intimidating position because the person on the other side is fully aware and understanding of their condition. Our numbers speak for themselves; we have over 100,000 registered users, and more than 1,500 success stories in which people found companions on the website."
Those afflicted with STDs often face difficulty finding compatible partners, and it's even more difficult for them to carry out successful and lasting relationships. Now people don't worry about their condition, thanks to HerpesDatingService.com. They can show their true selves without having to worry about telling the truth about their STD, and have someone appreciate them for who they are. The website takes away the anguish and distress of telling a partner on the first date about an STD, and driving them away without the relationship even beginning or having to find the "right" time to tell them about it, and face being called a liar for not telling them earlier.
Whether a person has herpes cold sores, genital herpes, AIDS, or other STDs, herpesdatingservice.com allows them to start meeting people within a matter of minutes. A user can simply create a profile, then connect with people, and then start blossoming a relationship without having to worry about others judging them. Best of all, account privacy is strictly guaranteed and confidential, so users don't have to worry about anyone else finding out, unless they want them to. Users are even allowed to anonymously browse the website without making their profile public, unless they choose to do so.
Living with an STD and finding a companion is now possible through this website.
About The Company
With over 12 years of experience, in the dating industry, HerpesDatingService.com is the ideal place for dating with herpes, HIV, and dating with HPV. It is one of the largest and most trustworthy online dating websites for people who have any type of STD. This exclusive online community caters only to victims of STDs and does not discriminate according to religion, race, or sexual orientation.