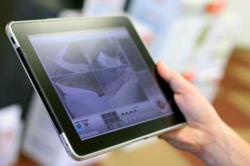 homeowners involved with careers have a need for the simplification of home life and this has boosted security company sales and appeal
Oklahoma CIty, OK (PRWEB) April 08, 2013
Security Options announced today innovative additions to security systems, incorporating home automation with standard home protection. The alarm industry's modern wireless systems have become perfect marriage partners for home automation technologies.
Reports show that homeowners involved with careers have a need for the simplification of home life and this has boosted security company sales and appeal. Security systems offer options that allow viewing of the premises with cameras and detectors. This format has been developed into air quality manipulation of heating and cooling systems and is controlled off-site by personal computers, cell phones, or hand-held remote devices. Valuable features include the control of lights, heat and air, and door locks. Warning applications are available for detection of carbon monoxide, smoke, broken glass, inside flooding or freezing, and severe weather. The security side informs the owner of an area breached by an intruder and if objects have been moved. Users with children or elderly parents in the home compliment installers on the convenience of being able to monitor the surroundings of loved-ones while they are away from the home.
Parents are able to monitor the safety of their home before their children arrive from school. With camera placement, the homeowner can view the inside of a room and pan an entire area. Sensors alerts computers and cell phones when any abnormal situation is detected that may cause concern. This effectively lets the working parent know exactly what is happening in the home or property while not having to physically be there.
Security Options issues the importance of a security system with automation for business as well as home applications. The ability to monitor inventory, money, and employees when a business is open can help owners enjoy the freedom of not having to actually be at the business to conduct business. This allows owners to observe the behavior and productivity of employees anytime from anywhere. Energy savings and the comfort of customers and employees becomes a factor that sells when businesses owners promote clean working environments with the bottom line in mind.
Honeywell claims no invasive procedures are used that cause damage to the structure because wireless applications replace the tedious stringing of wires from each sensor to a controller. Technicians claim, 'putting in one of these systems is such a simple task that, in most cases, it eliminates the need for expert knowledge and training for security and home automation installation.'
Honeywell official Robert Puric stated, "A study by Rutgers University of Criminal Justice concludes that residential burglar alarm systems did decrease crime. Homeowners are using similar concepts of connection to improve their lifestyles as well as security, and they are doing it affordably, too."
An analyst with a market research group said, "The convenience of being able to lock and unlock my doors at home and setting the temperature while I'm still several miles away is something I thought was unaffordable on my salary."
Research manager Lisa Smithton quoted, "I try to save energy by turning down the heat when I'm away from home but hate walking into a cold house. I can now set the temperature from my phone when I leave work and my house is toasty warm when I get there."
Heating and air conditioning systems are controlled manually, but they can be programmed on a schedule to turn on and off automatically. This is a feature owners are excited about when vacations or business trips take them away from home and normal temperatures are not necessary in a vacant house.
Further investigation shows there are full systems available on the market installed for less than $500 and local hardware stores are carrying self-installation systems for around $300. These findings harbor the concept that home security and automation is being widely accepted into the mainstream users' budget affordability. It is expected a boom in home security with automation services will flood the industry this year as more systems become available for these lower costs.
Dylan from Security Options says the increased crime rates experienced across the entire country each year has made security systems a basic staple for new home construction. They say because of the new technology that has helped to make if more affordable, existing homes are in line to update for a more secure lifestyle. Home automation is an attractive addition that was seen as not obtainable before, but is now a simple convenience for the average consumer. Homeowners and businesses are seeing the advantages that can actually make them money with the energy savings, while making them more secure for their families and customers. For more information, contact Security Options, 804 W. I-240 Service Rd., Oklahoma City, OK 73139.
Contact: Dylan Johnson
Security Options
804 W. I-240 Service Rd.
Oklahoma City, OK 73139