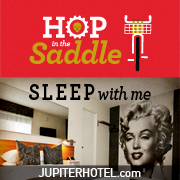 "It can't get any more Portland than this! Our new 'Hop in the Saddle' deal includes a room night, a bucket of ice cold local Rogue Ale beer, bike rentals and a copy of the latest hit book, 'Hop in the Saddle'." - Al Munguia, General Manager
Portland, OR (PRWEB) April 29, 2013
Jupiter Hotel brings craft beer and bicycling culture of Portland, Oregon together in unique package deal. An overnight stay at this boutique hotel wraps up an experience that only the City of Roses can offer.
The Jupiter Hotel now provides all the necessary tools to enjoy Portland's world-renowned brewery and bicycling destinations, including: bike, helmet, guide book and overnight accommodations. This is the quintessential overnight Portland package.
"No worries if you enjoy the brews a bit too much," says Al Munguia, General Manager of the Jupiter Hotel. "We will help arrange for a cab ride back to your cozy hotel room if needed."
The "Hop in the Saddle" package is chock full of local goods and services, including:

Explore one of America's most bicycle-friendly cities from the front door of the Jupiter with on-site bike rentals. The nuts and bolts on the bikes may not be made in Oregon, but everything else is. The provided Nutcase helmet, guidebook and Rogue Ale are all high-quality Oregon-made products. Your take-home "Hop in the Saddle" guidebook directs you to the best breweries in town along the routes that only these local authors can share.
About The Jupiter Hotel:
The Jupiter serves as a home-on-the-road for modern travelers, cultural creatives and business nomads looking to indulge in urban life. The 81 modern guestrooms, connect guests to the vibrancy of Portland at affordable rates. The hotel has been featured by national magazines such as Elle Décor, Travel + Leisure, GQ and more. Travelers looking for a unique experience in urban hospitality find their destination at the Jupiter Hotel, located at 800 E. Burnside, Portland, OR. Reserve a room today at http://www.jupiterhotel.com or call 877-800-0004.