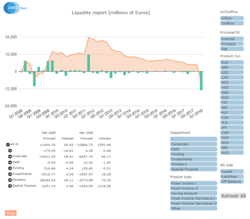 We are extremely proud of this release and our customers confirm that we delivered spot-on on their needs.
Lausanne, Switzerland (PRWEB) January 16, 2013
Companies face today growing complexity and speed of change. This environment strengthens the need to be informed of the evolution of their business realities as they change. The icCube real-time OLAP Server is an evolution of its standard OLAP server, meaning instant responses in our web reporting to complex user queries against operational data - but now - as this data becomes available.
The real time edition of icCube is built reinforcing all benefits of the previous version and increasing its performance even further. icCube's broad analytical capabilities are now strengthened by on the fly data acquisition while delivering subsecond response times on increasingly rich analytical questions. icCube's engine is available on any commodity hardware able to run a JAVA virtual machine making it ideal to deploy on private and public cloud platforms. 'OLAP with pleasure' is the driving principle behind all icCube solutions.
The engine has been carefully designed to allow queries at the same time new data arrives. Data consistency is maintained throughout the operations, allowing a transparent and undisrupted user experience.
icCube also introduces with this major release the following additional features:
Real-Time monitoring providing instant alerts (e.g. e-mail) from icCube into the Enterprise or Cloud production environment with icCube's new notification service
Excel managed sets and graphical filters continuing their commitment to full Excel 2012 support
New widgets and refinements of the functionalities of their native Web Reporting
"We are extremely proud of this release and our customers confirm that we delivered spot-on on their needs. Entering into the new year, we want to wish our community a dynamic and successful 2013 and can already tell you that this year roadmap is even more ambitious. More to come soon on our website," said Marc Polizzi heading icCube Product Development.
More information about real-time OLAP and monitoring, enhanced Microsoft Excel integration and web reporting as well as the general content of the 3.0 release can be found in the icCube newsletter while the download page allows for software evaluation. General information is available on http://www.iccube.com or by email at contact(at)iccube(dot)com.
About icCube
icCube offers a suite of products to increase the productivity and accuracy of Business Intelligence operations; generating accurate information is made possible after minutes or hours of setup rather than days or weeks.
The Web Reporting allows for creating and sharing accurate and interactive Web (PC/iPad) dashboards to take control of your business.
The native Excel(TM) Integration will satisfy the analytical needs of the most demanding users.
Eventually, the fast in-memory real-time OLAP (Online Analytical Processing) engine allows to aggregate data from different sources to get instant insights of your business.
Since its beginning, icCube is being praised for its flexibility and advanced calculation engine. Compared to closed solutions, we fully support the MDX (Multidimensional Expressions) and XMLA (XML for Analysis) standards adding innovative features (e.g, functional, object support) and direct integration with Java and R languages.