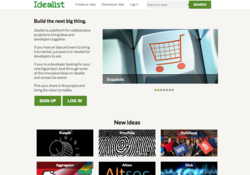 Think of Idealist as a matchmaking service for business partners.
London, UK (PRWEB) February 04, 2013
Recently launched Idealist (http://idealist.co) is a platform that connects ideas to developers in exchange for equity in the project. The service has gained quick traction, with a large number of new accounts being created in its first week since coming out of beta. Developers can search through the site and find ideas that they're interested in. When they find an idea that they want to be a part of, they can submit a proposal to build it in exchange for a percentage in the project, or in its profits.
There certainly exists no shortage of ideas, but the difficulty comes in taking a project from an idea to a fully-functioning product.
Idealist founder Reid Jackson said to "think of Idealist as a matchmaking service for business partners." The London-based American went on to say that "There's nothing more frustrating than having a good idea with nobody to help you execute it. The premise is quite simple – 'there should be an app for that' is said more than 'there is an app for that.' Now people can actually bring an idea to life with equity, rather than capital."
Many of the ideas are posted by users with connections to help them take off, and a lot of them have already been designed or sketched out. Some ideas offer developers the majority of equity, while others are looking for a negotiation. Ideas can be illustrated with pictures and videos, and users can connect their Facebook and Twitter accounts to make themselves more transparent and approachable. Ideas can even be shared across social networks to help bring attention to it.
"Idealist is a unique concept." Said CTO Harry Elliott. "Rather than crowd-funding an idea and hiring developers separately, it directly connects ideas with these developers. Unlike freelancing, it provides an opportunity for developers to own a piece of the project that they're working on, rather than simply working for it."
Those who may worry about ideas being stolen should feel that their ideas are protected. Each time that a user clicks on an idea, they have to agree to a non-disclosure agreement. Records of these agreements are kept by Idealist, which should "ward away potential idea thieves" Elliott describes.
Just weeks after its launch, Idealist has garnered enough momentum to see projects being built and released. "Idealist will finally make it possible for anyone to bring their idea into existence." Mr. Jackson concluded.