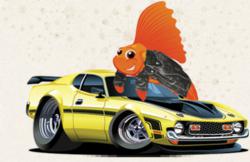 As the internet grows and becomes more technologically advanced, so do thieves' methods of stealing your info.
New York, NY (PRWEB) February 10, 2013
RoadFish.com men's lifestyle and finance magazine today offered tips to its readers to protect themselves against falling victim to identity theft, after becoming aware of a New Jersey man who recently charged $85,000 to a stolen credit card in the Tri-state area.
The Associated Press reported that New Jersey authorities identified 37-year-old Lasean Harps of Jersey City as the culprit behind $85,000 worth of charges to a stolen credit card. The article states that Attorney General Jeffrey Chiesa announced on Monday that Harps will face charges of identity theft, impersonation, theft by deception, and fraudulent use of a credit card. Reportedly, Harps—who has more than one alias—went on a "spending spree" at a handful of New Jersey and New York businesses over a 4-5 month period, spending a grand total of $85,000.
In light of such a massive amount of fraudulent charges made by one person, RoadFish.com offered tips to its readers on how to avoid falling victim to an identity thief. RoadFish.com's Senior staff writer is quoted as saying, "There are all sorts of ways for people to steal your private, personal information these days. It's a good idea to be informed of them, so that you are more aware of the things you do, and the data you put out there. Some of the ways thieves get their hands on your personal data include credit card skimming, dumpster diving, phishing by way of spam messages, changing your billing address, and physically stealing—the plain, 'old-fashioned' way. As the internet grows and becomes more technologically advanced, so do thieves' methods of stealing your info."
RoadFish.com urged that readers use common sense when throwing personal information into the trash. RoadFish.com recommends shredding any piece of mail or other documentation that contains an address or bank numbers, including but not limited to bank statements, receipts, utility and credit card bills, and any junk snail-mail that offers pre-approval on a new card. Another tip RoadFish.com offered was to make passwords to websites with spending ability, such as eBay, Amazon, and all banking websites, strong or very ambiguous. This eliminates the possibility of a stranger hacking into a consumer's account and pulling bank or credit card numbers, or simply spending money on websites like eBay.
RoadFish.com's Senior staff writer is quoted as saying, "I also highly recommend that each and every consumer keeps close tabs on bank statements and credit history. I recommend checking your bank statements at least once a week, if not more. I personally check mine about once per day or once every other day, thanks to the ease of having my bank's app downloaded to my phone. I can do it while I'm standing in line at the grocery store, it takes literally two minutes. That way, in case anything funky were to come up, you'd catch it quickly. I also would urge everybody to do the same with credit reports. It's a good idea to check these once per year as well, to ensure that there hasn't been any fraudulent activity to your credit that you didn't catch through your bank statements. Checking your credit report is easier than most people think. By law, all U.S. citizens are allowed one free report per year, so get your credit report free and cash in on the opportunity while ensuring that your identity hasn't been lifted in the process."
RoadFish.com also strongly urged readers to keep in mind that if they do use financial SmartPhone apps such as Mint.com, the TurboTax app, or any bank apps that it's a good idea to password-protect entrance to these apps. This way, if a user's phone is lost or stolen, a thief cannot log in as easily.
According to the above-mentioned AP article, authorities report that if convicted on all charges he is facing, Harps could face a very lengthy sentence in prison for his crimes.
About RoadFish.com:
RoadFish.com men's lifestyle and finance magazine is an online magazine geared towards male readers in their 30's and 40's. The demographic is men who have already attained a moderate level of life success, and are on their way towards meeting their next personal or professional goal. RoadFish.com offers advice on hot chicks and the best online dating website, places to eat and stay, and luxury items. Financial topics include getting out of debt, improving one's credit, and what to do with old credit cards. RoadFish.com is owned and operated by Purpose, Inc.