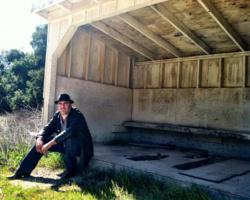 Sergio C. Munoz at Intelatin asks: "Why would five ex-Presidents support the legalization of marijuana instead of five sitting Presidents?"
Los Angeles, CA (PRWEB) May 06, 2013
The Intelatin Cloudcast produced four strong dialogues in the month of April with guests that included Linda Escalante of the Natural Resources Defense Council, Giovanni Rodriguez of SocialxDesign in Silicon Valley, Gerardo Ascencio of the National Association of Hispanic Real Estate Professionals, Chef John Sedlar of Rivera and Museum Tamal 26, Antonio Gonzalez for Latino Nation, Ted Howard of The Democracy Collaborative, Dr. Karen Fields of Duke and Dr. Natalie Byfield of St. Johns University. Featured music for the month was by Peter Gabriel, The Ghost of a Saber Tooth Tiger, k.d. lang and Bob and Ziggy Marley. Dreamer Radio for the month included individuals from Georgia and New York.
The month of May marks the beginning of a new collaboration with the Natural Resources Defense Council (NRDC), SocialxDesign and celebrated ethnomusicologist DJ Canyon Cody of Subsuelo for a year-long series on Environmental Justice. Producer and Host, Sergio C. Munoz, says, "We've had such a great response from our series on Racecraft that I wanted to do the same for Mother Nature. By aligning for a year-long series with Linda at the NRDC, Giovanni at SocialxDesign and DJ Canyon Cody, we will be able to plant a positive seed on what the youth can do to best the fools that are actively and viciously jeopardizing our planet."
Munoz is particularly pleased to bring on Canyon Cody in the role of DJ for the shows. Cody says, "I'm constantly searching for new music, but what inspires me to keep digging isn't the discovery, but the subsequent sharing. There's a neighborliness that I find inspiring -- a certain sense of community that comes from collective listening and groove cohabitation. Most people don't have time (or inclination) to sift through the digital detritus in search of those hidden gems, but I do. As the Web 2.0 mantra goes, "There's no such thing as information overload, only filter fail." I relish the role of being a music filter for my community, because there is so much exceptionally interesting music out there -- no one should waste their time listening to pretty-good-OK music."
May will also bring dialogues with Judge James P Gray on marijuana legalization. This dialogue stems from a summit in April in Cartagena, Colombia where a number of ex-Presidents voiced their support for the legalization of marijuana including Gaviria of Colombia, Cardoso of Brazil and both Fox and Zedillo of Mexico. While not present, ex-President Jimmy Carter also supports the legalization of marijuana. Sitting President Barack Obama told the New York Times on April 14, 2013 that "I know there are frustrations and that some call for legalization. For the sake of the health and safety of our citizens — all our citizens — the United States will not be going in this direction." In a deep dialogue, Munoz questioned Judge Gray on the intricacies of the debate on this issue.
Dreamer Radio will continue in May with dialogues with Erika Andiola of Arizona and Gaby Pacheco in New York and the Racecraft episode will feature Munoz and Dr. Karen Fields in deep with Willene Johnson, Economic Consultant for the United States Institute of Peace.
The Intelatin Cloudcast records at KBeach in the University Student Union at California State University Long Beach. It broadcasts on KKJZ 88.1 FM HD3 and podcasts on iTunes. It is hosted and independently produced by Sergio C. Munoz with co-host Dr. Jose Moreno. The archive and contact information are available via intelatin.com