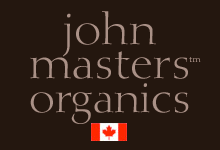 (PRWEB) January 15, 2013
John Masters Organics Canada announced today they have started a page on Facebook, the world's largest social network.
John Masters Organics and their award winning, natural and organic hair, skin, and body care line now have a Facebook page to keep followers up to date on the latest happenings. In addition to beauty, celebrity, and product launch news, the John Masters Organics Canada Facebook page will include exclusive deals, contests, and giveaways.
John Masters Organics grew out of a desire to create a luxury beauty line that treats the earth with respect. The result is the culmination of the hard work performed by people all over the world. With wild-harvested ingredients, cold-pressed and steam distilled extracts, John Masters Organics is able to provide unparalleled care hair and skin. Only the world's finest botanicals can make the world's finest products.
John Masters Organics Canada is distributed by Integral Sense Brands. Integral Sense Brands was born out of consciousness to offer only the finest premium, certified organic, non-toxic, personal care products available. A distributor of brands such as butter LONDON, John Masters Organics, Antipodes Nature, Adara, and SAMA, their beauty categories available include: haircare, skincare, body-care, lacquers, cosmetics, and makeup.